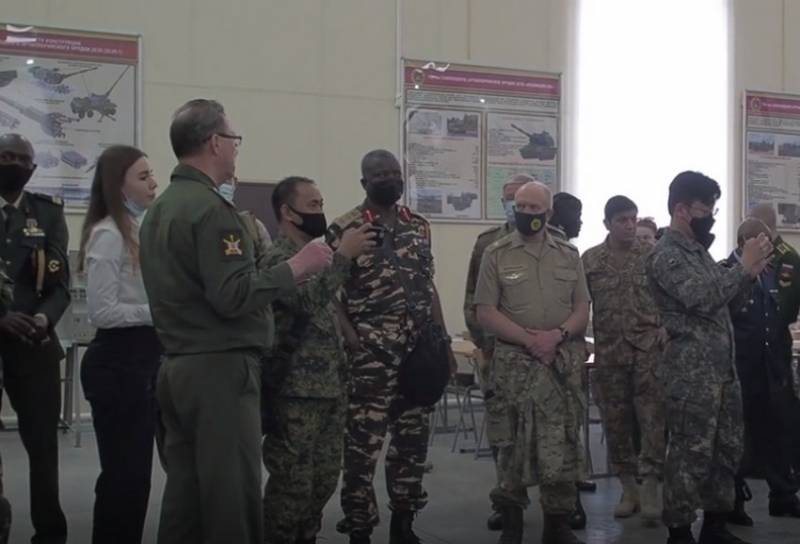 The Ministry of Defense demonstrated the work of artillery to the military attaché of foreign states. The show took place at the Luga training ground of the Western Military District in the Leningrad Region. This was reported by the press service of the military department.
More than 70 military attachés from 54 countries of Europe, Asia, Africa, Latin America and the CIS visited the Luga test site. The foreign military was shown the capabilities of cannon artillery and multiple launch rocket systems.
As explained in the Ministry of Defense, a tactical episode was played out at the training ground, during the implementation of which the capabilities of artillery and MLRS were demonstrated. Foreign guests were shown in action 82 mm 2B14 "Tray" and 120 mm 2S12A "Sani" mortars, towed 122-mm D-30 howitzers, 152-mm howitzers 2A36 "Hyacinth-B" and 2A65 "Msta-B", self-propelled artillery mounts 2S19M2 "Msta-S". MLRS were represented by the Smerch and Tornado-S complexes.
In addition, the military attaches were introduced to the specifics and possibilities of training foreign military personnel at the Mikhailovskaya Artillery Academy.
The Ministry of Defense noted that the event is planned and not the first. At the end of April this year, about 80 military attaches visited the Ashuluk training ground of the Center for Combat Training and Combat Use of the Aerospace Forces in the Astrakhan region, where they were shown the combat work of the S-400 air defense missile system and the Pantsir-S air defense missile system. The foreign guests were impressed by the combat capabilities of the Russian anti-aircraft systems.
The military recalled that they regularly invite foreign military diplomats accredited in our country to familiarize themselves with the capabilities of Russian military equipment, as well as to participate in various organizational and other events. Currently, about one and a half thousand servicemen from 43 states are studying at six universities of the Ground Forces.