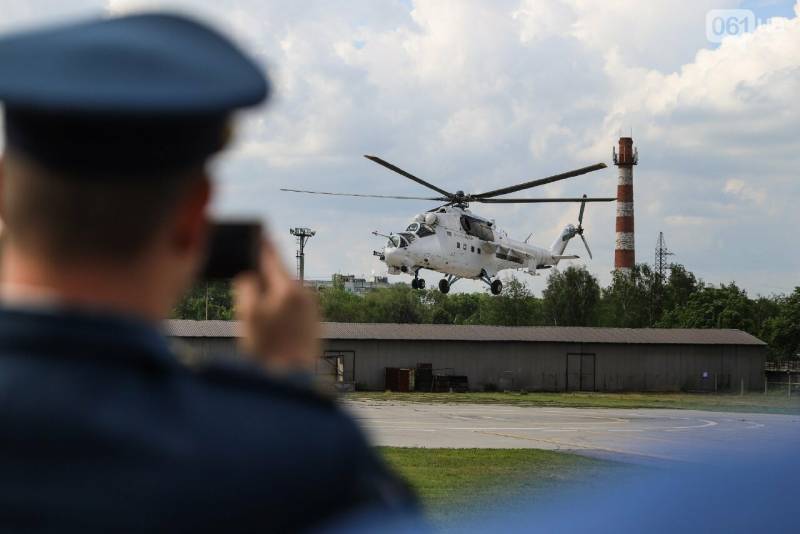 The General Director of the Motor Sich plant located in Zaporozhye, Vyacheslav Boguslaev, said that the metal blades for the main rotor of the Mi-24 heavy attack helicopters manufactured by the company were successfully certified. On May 18, a ceremony was held for the transfer of the first three sets of blades to the Armed Forces of Ukraine (AFU) with the participation of Defense Minister Andrei Taran and other high-ranking guests.
This was reported on the official portal of Zaporozhye.
In the future, the plant plans to establish mass production of these products, bringing the annual volume to 60 sets, each of which includes five blades. As a next step, the Ukrainian company Motor Sich wants to start exporting blades for helicopters. Boguslaev claims that the first three contracts with foreign buyers have already been concluded.
Contracts for this type of blades have been signed with three states. With three highly developed countries where these helicopters are operated.
- said the head of the enterprise, without informing about what kind of "highly developed" countries in question.
Boguslavsky also hinted that the company plans to switch to another type of helicopter.
Previously, Motor Sich was considered one of the leading enterprises in the field of engine building in the territory of the former USSR. Now his status has become much more modest. Moreover, the enterprise is in limbo. Recall that Ukraine first agreed to sell a large stake in Motor Sich to Chinese companies, and when the funds had already been received, it imposed sanctions against these companies. This caused an extremely negative reaction from Chinese investors.