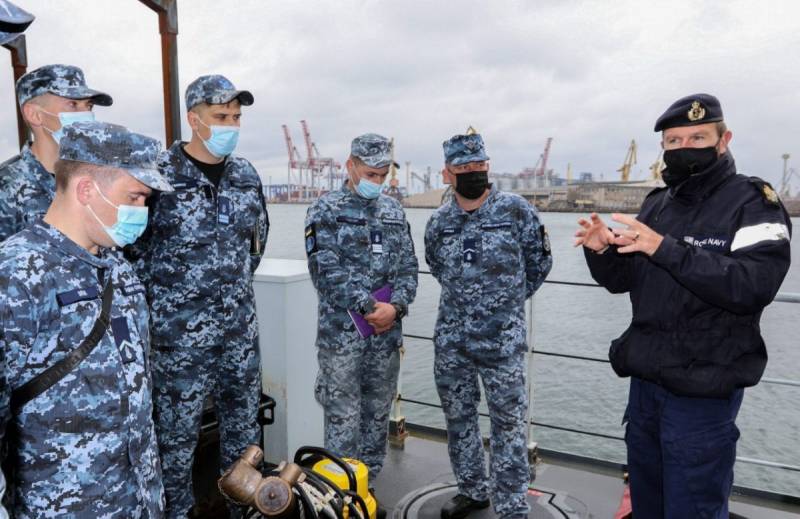 British military instructors expand the training program for the Ukrainian army. The next courses began in Odessa aboard the moored patrol ship "Trent" Royal
fleet
UK.
According to the publication of the Ministry of Defense of Ukraine ArmiyaInform, the training of the Ukrainian military is carried out within the framework of the Orbital combat training mission, the expansion of which was previously agreed by the Ukrainian and British Defense Ministries.
In the Ukrainian Navy, the classes will last two weeks and will be held both on board a British ship and on land. Ukrainian sailors will be shown the organization of service on the ship, various emergencies, etc., as well as what British patrol ships are all about. At the end of the training, the servicemen of the Naval Forces of Ukraine will be shown ship firing.
Another course began at the International Center for Peacekeeping and Security of the National Academy of the Ground Forces named after Hetman Petr Sagaidachny, where British and American instructors will teach the military personnel of the Armed Forces of Ukraine to conduct military operations in urban conditions.
The three-week course includes theoretical and practical lessons. The military personnel of the Armed Forces of Ukraine who have completed the training and received a special certificate can then themselves conduct classes under the NATO training programs.
As previously stated in Kiev, about 20 thousand Ukrainian servicemen have already completed training under the ORBITAL program, which allowed the Armed Forces of Ukraine to participate "on equal terms" in military maneuvers along with other armies and come closer to NATO standards. The Ministry of Defense of Ukraine is convinced that this will become one of the main criteria for Ukraine's entry into the North Atlantic Alliance.