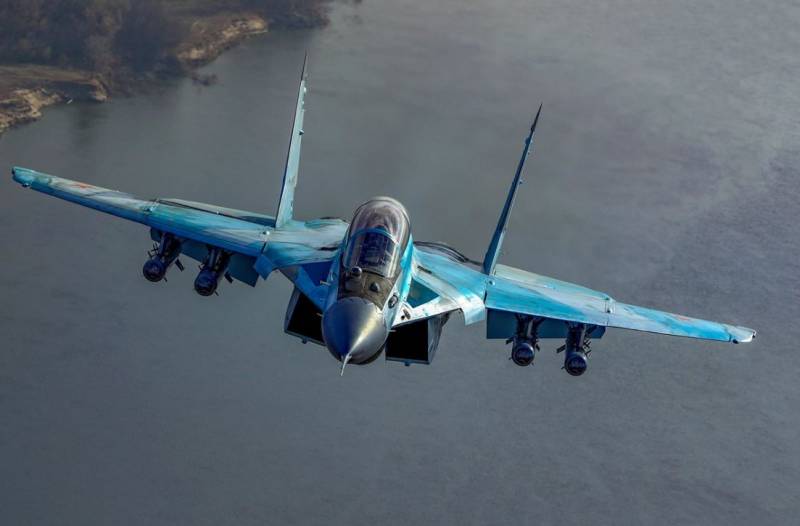 Russia has officially announced that it is currently undergoing final tests of the MiG-35 multipurpose fighter. This is a 4 ++ generation aircraft, whose characteristics are as close as possible to the fifth generation of fighters.
Business Insider author Peter Suciu, starting his article on the Russian plane, compares its appearance to the US Boeing F-15EX program, which is an add-on to the F-35 program.
The MiG-35 fighter was designed to defeat the enemy in the air, on the water and on the ground in all weather conditions, at any time of the day. The American observer quotes Mushegh Baloyan, head of the directorate of the MiG-29M, MiG-35 programs and the light multifunctional front-line aircraft RSK MiG, who announced that he had received a preliminary certificate for the production of an experimental batch of MiG-35 aircraft.
As Baloyan emphasized, the flight crew of the Russian
aviation
I really like the easy-to-fly aircraft. At the same time, the issues that arise during the operation of the aircraft are promptly eliminated by manufacturers after receiving relevant information from the customer - the Ministry of Defense of the Russian Federation.
The main purpose of the MiG-35 is intensive operation in zones of armed conflict, where a dense and multi-level enemy air defense system operates. It is interesting which characteristics of the aircraft have attracted the attention of the American author.
Peter Suciu writes about the new radar installed on the aircraft, the stability of the aircraft's radar system to the enemy's electronic warfare, the greater target detection range than the radar systems of a number of other aircraft.
The MiG-35 can reach speeds of up to 2,25 M and fight at a distance of up to 1 km.
A separate issue is aircraft armament. Suciu writes about the MiG-35's ability to use a wide range of missiles and bombs, including active radar-guided anti-ship missiles, anti-radar missiles, TV-guided bombs, and a 30mm cannon. This is true: the new fighter is capable of carrying all types of guided and unguided air-to-air and air-to-surface missiles weighing up to 500 kg. The total mass of the outboard weapons can be 7 tons. In general, the American observer praised the Russian fighter.
At the same time, as the representative of the US media notes, the development of the MiG-35 project went quite slowly. It was announced in 2007, 14 years ago, but it was only in 2013 that the Russian Air Force announced plans to order 37 such aircraft. Currently, 14 MiG-35s have been produced, including 6 experimental fighters. While Russia remains the only operator of this fighter, however, export options are being considered more and more actively. In particular, the plane is on the list of those considered by India.