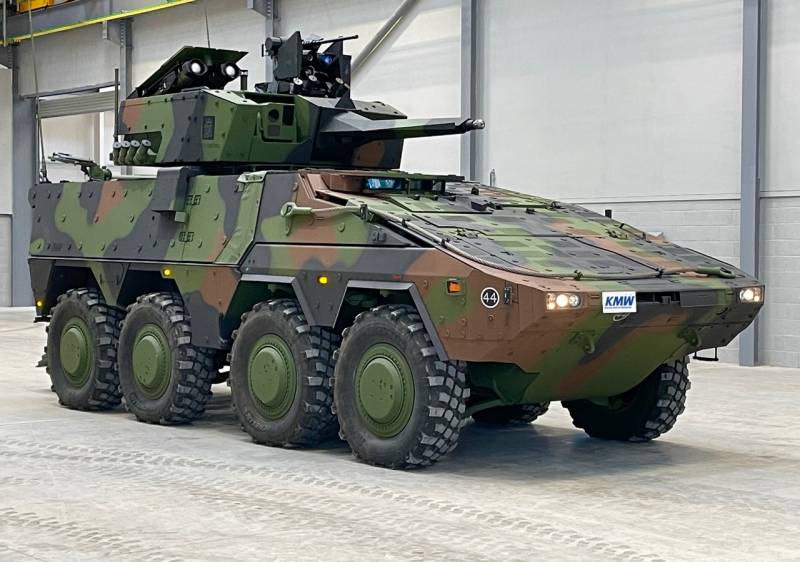 The German consortium ARTEC has presented a new version of the GTK Boxer 8x8 armored personnel carrier. According to the bmpd blog, in this version, the armored personnel carrier received the Protector RT60 combat module of the Norwegian group Kongsberg.
The armored personnel carrier was developed in the interests of the "Middle Eastern" customer, which is not reported, but according to the blog, it may be Qatar, which fell through the deal to acquire French-made VBCI-2 armored personnel carriers.
This version of the Boxer armored personnel carrier is equipped with a Protector RT60 remote-controlled combat module with a 813 mm Northrop Grumman XM30 automatic cannon, a 7,62 mm coaxial machine gun, and an ATGM launcher for two missiles. In addition, another remote-controlled machine gun, already a large-caliber 12,7 mm, is installed on the roof of the module.
The Protector RT60 module of the Norwegian company is also installed on the American M1296 Stryker ICV Dragoon (ICVD) armored personnel carriers and the advanced wheeled armored personnel carriers of the US Marine Corps ACV-30.
The crew of the Boxer armored personnel carrier is 3 people + 8 people.
The Boxer is a multi-purpose armored personnel carrier with a modular design that allows it to carry various weapons, with the 8 × 8 wheel formula. Mobile command posts, armored medical vehicles, etc. are produced at its base.