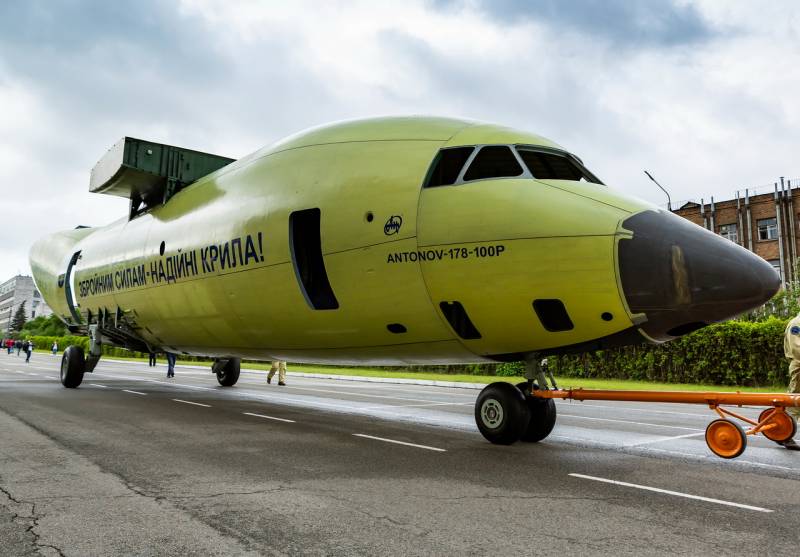 The assembly of the fuselage of the first military transport aircraft An-178-100P has been completed in Ukraine. The fuselage roll-out ceremony was held at the Antonov State Enterprise, the press service of the enterprise reports.
The company reportedly has completed the assembly of the An-178-100P fuselage, which is being manufactured for the Air Force of the Ukrainian Armed Forces under a contract for three AN-178s. The contract was signed on December 29 last year under state guarantees. All three aircraft are planned to be manufactured in four years.
In addition to the fuselage, other elements of the aircraft are not yet ready, they are planned to be manufactured by the end of this year. After that, the company will start assembling the first aircraft. It is planned to hand it over to the Armed Forces of Ukraine in 2023. The production of airframe elements for the other two aircraft has not yet begun.
As explained, the An-178-100P is an improved Ukrainian An-178. Kiev intends to replace the outdated military transport aircraft of the still Soviet assembly An-12 and An-26. It is stated that the order for the An-178 can be expanded.
The An-178 basic transport aircraft was developed on the basis of the An-148 / An-158 regional aircraft. The design of the aircraft was carried out without the use of design documentation, which led to a misalignment of the aircraft due to miscalculations of the designers.
According to the developers, the aircraft has the following characteristics: flight altitude - 12 km, range - 4200 km, maximum speed - 825 km / h. The shape of the fuselage and ramp allow you to transport bulky goods weighing up to 18 tons, including containers.