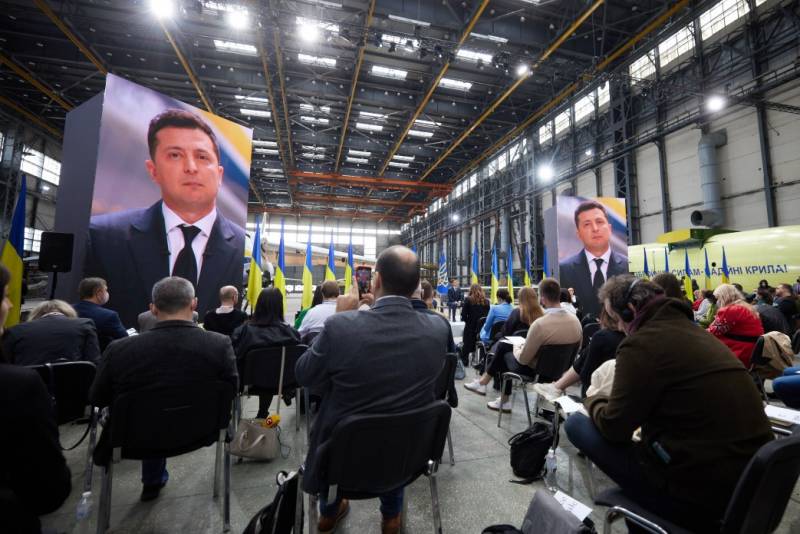 Ukrainian President Volodymyr Zelenskyy announced a large-scale military parade on the Independence Day of Ukraine.
Speaking at a press conference following a two-year stay in the chair of the head of Ukraine, Zelensky said that on August 24, 2021, in honor of the 30th anniversary of Ukraine's independence, military parades will be held throughout the country, and the largest will be in Kiev. According to him, representatives of 30 countries will come to Kiev to celebrate the independence of Ukraine.
There will be a parade. The parade will be military, the parade will be large, both on land and on water. Will be on the Dnieper, and in Odessa, and in Kiev on the Maidan
- the Ukrainian media cite Zelensky's statement.
The Ukrainian president also spoke about the schedule of the celebration, which will begin in advance. On August 22, in Kiev, the "great Ukrainians" will be awarded, on August 23 the first summit of the so-called "Crimean Platform" will open, at which the plan for the "de-occupation" of the peninsula will be discussed. Also on this day, a "summit of first ladies" will be held, where wives of politicians from all over the world are invited.
The crown of the holiday will be military parades throughout the country, and the planned one in Kiev is called the largest. So far, no data has been provided on the equipment involved in the parade and the number of military personnel, but a demonstration of the "achievements" of the Ukrainian army achieved during independence has already been announced.
Recall that the last military parade in Kiev was held in 2018 under Poroshenko, in 2019 and 2020 there were no parades.