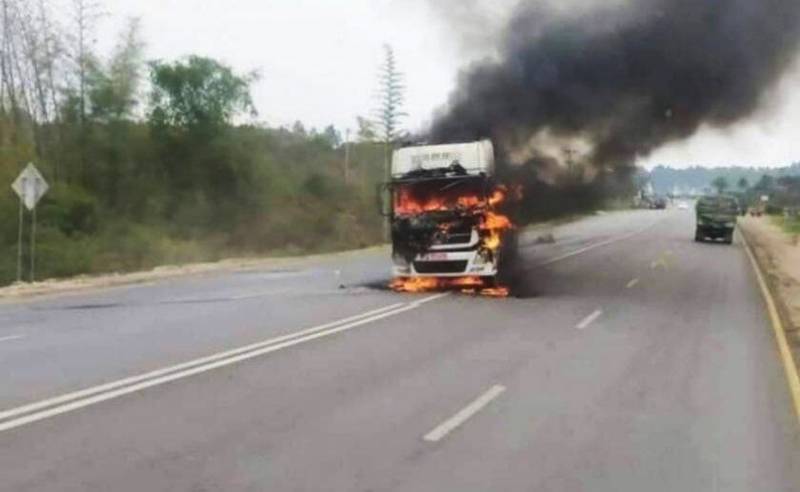 An armed incident is reported that took place in Kachin, the northern province of Myanmar. According to the latest reports, representatives of an illegal armed group attacked a military convoy, which included several tank cars with fuel for the needs of the country's armed forces. This is an attack that was carried out by representatives of a group that calls itself the "army of independent Kachin" and is fighting for the sovereignty of the northern region of Myanmar.
A statement by one of the group's field commanders has been circulated online:
We attacked the convoy as it was being used by the military. We received information that several tanks contained fuel for combat
aviation
.
At the same time, it was stated that the detachments of the "army of independent Kachin" do not intend to enter into direct clashes with the army of Myanmar.
According to the latest information, in connection with the attack on the convoy carrying fuel for the Air Force, the Myanmar bomber aircraft at the moment had to abandon the operation against the militants in the north of the country. At the same time, it is known that at the moment the separatist forces of Kachin are holding under their control a military base that belonged to state forces. As a result of the fighting, the troops of Myanmar were forced to leave this military facility.
In connection with the situation in Kachin province, units of the armies of India and China, with which (states) this region of Myanmar borders, are on high alert.
For reference: the so-called "army of independent Kachin" consists mainly of representatives of the Kachin people (Jingpo). More than a million representatives of this ethnic group live in Myanmar, and about 150 thousand more live in China. Beijing is concerned about the separatist sentiments of the Kachin people in Myanmar and fears that unrest may spread to the territory of the PRC.