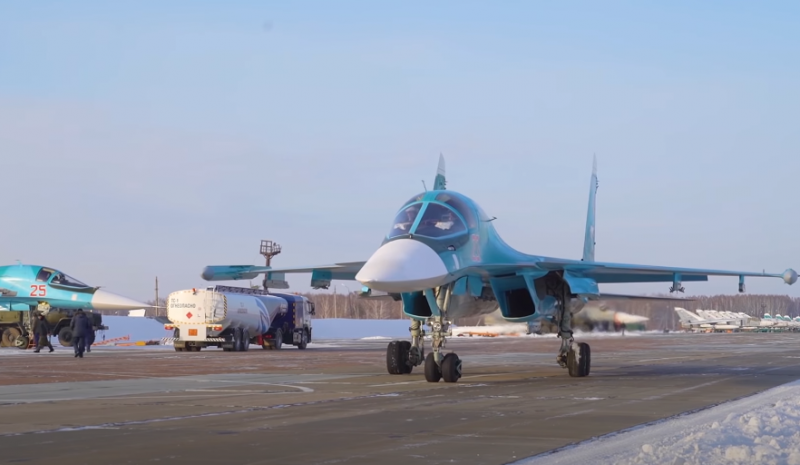 Russian front-line bombers will cover the Northern Sea Route; the decision to deploy these aircraft at Arctic airfields has already been made.
The military department will place a squadron of Su-34 in the Arctic, they will be deployed on the Franz Josef Land archipelago and the New Siberian Islands. Airfields "Nagurskaya" on the land of Alexandra and "Temp", located on Kotelny Island, are preparing for the deployment of aircraft. Currently, the necessary infrastructure is being prepared for the bombers, including the construction of closed warm hangars. In addition, parking lots for Il-78 tanker aircraft are envisaged, which will have to provide combat duty for the Su-34.
According to the plans of the Ministry of Defense, which were shared with us
"News"
, citing sources in the military, it is planned that the Su-34 will enhance the capabilities of the combat
aviation
in the Arctic. It is assumed that front-line bombers will be able to conduct patrols, reconnaissance and strike at ground and sea targets, covering the Northern Sea Route.
In March of this year, it was reported that the Ministry of Defense had made a decision to test the Su-34, Su-35 and Be-200 in Arctic conditions. To this end, Su-34s were sent to the Arctic from the Shagol airfield in the Chelyabinsk region, the Be-200 was tested on Franz Josef Land, but there has been no information about the Su-35 so far.
Note that the Ministry of Defense pays great attention to strengthening Russia's position in the Arctic. To date, most of the northern airfields have been reactivated and reconstructed, becoming all-season. The MiG-31 and S-400 air defense systems were put on alert in the region.