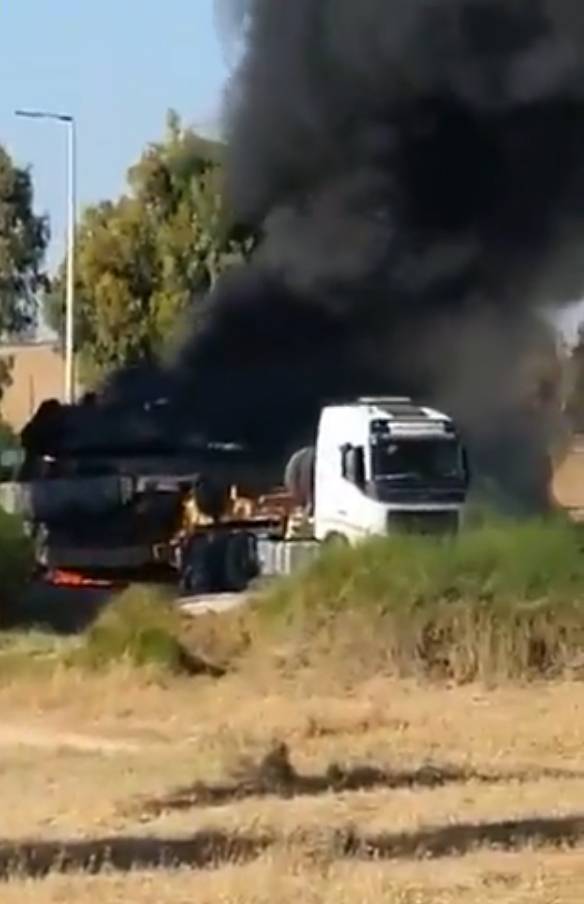 Information is provided on the fire of a semitrailer on which a tractor was transporting an Israeli tank Merkava Mk4 to the border of the Gaza Strip. The video below shows footage of thick black smoke rising above a vehicle platform containing an Israeli-made main battle tank. The incident happened a couple of days ago.
At the same time, users who publish these video frames give different versions of the causes of the fire on the auto platform. Some sources claim that the cause of the fire was the hit of an anti-tank missile, which was fired from the position of one of the units of the Hamas combat wing. At the same time, it is noted that the rocket hit the tank, and not the platform on which it was transported.
Others claim that there was a mortar attack, as a result of which a shrapnel from one of the mines damaged the tank of a truck transporting an armored vehicle. In this case, it is strange that not the entire truck with a semitrailer is on fire.
According to the third version, the cargo platform itself ran into an explosive device, which was allegedly installed on Israeli territory.
The footage shows an open burning under the bottom of a semi-trailer with a Merkava tank.
Recall that a few days ago Israel began to transfer its
Tanks
and artillery. The Israeli press announced that the country's defense army is preparing for a possible ground operation in the sector. However, at the moment, the Israeli military command refrains from such an operation.
In the IDF, publications about the incident with a semi-trailer near the borders with the Gaza Strip have not yet been officially commented on.