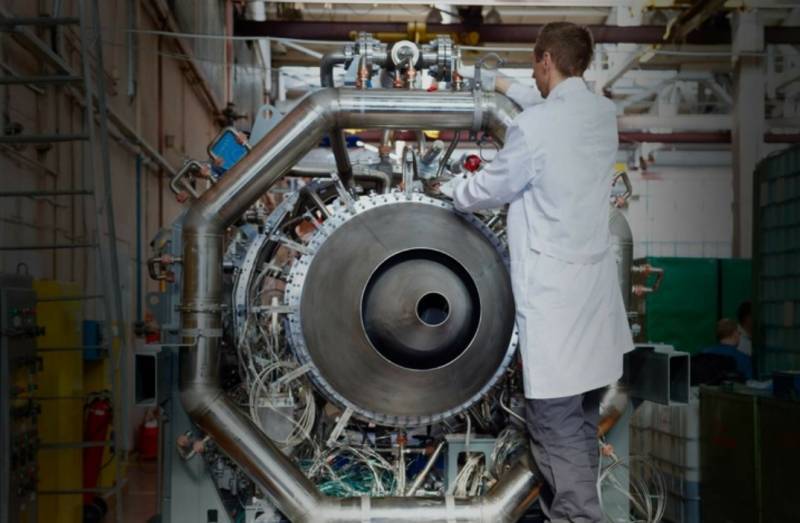 In Russia, work continues on updating the fleet of gas turbine power plants of a new generation and class for the domestic short-haul passenger airliner SSJ-NEW. According to the press service of the United Engine Corporation, the company's team has assembled the first experimental gas generator for the promising PD-8 engine.
According to UEC representatives, if the design and development of a new generation power plant is successfully completed, it will be possible to equip not only SSJ-NEW with it, but also other aircraft of the same class.
Now, after the working prototype is ready, it will face the stage of critical bench tests to confirm the main parameters and characteristics declared by the engineers. A working sample will also be on display at the annual specialized exhibition of achievements
aviation
industry MAKS-2021, which will be held in July in the city of Zhukovsky near Moscow.
According to the manufacturer, during the design and experimental production work on the PD-8 engine, an assembly infrastructure was developed and manufactured, sensors were installed to monitor the condition of the product during testing, and the rotor of the new gas generator was assembled and balanced directly. The subject of observation will be the mechanisms for debugging the automation of control and control of the launch of the power plant.
The "heart" of the new PD-8 power plant, which is an important detail - the gas generator, has been assembled. Now the next step is testing and the most crucial moment - the first physical launch, then a public demonstration of what has been achieved
- said the deputy general director of the State Corporation "Rostec", which includes the UEC, Vladimir Artyakov.
The successful development of the new PD-8 unit was facilitated by the extensive experience of engine builders who worked on the "elder brother" of this power plant, the PD-14 engine, which is already intended for the domestic medium-haul MS-21 airliners.
The creators and developers have no doubt that the tests will fully confirm the characteristics and innovative solutions they have put into the product. One can be sure of this, if only because the project to create PD-8 (as well as other promising Russian engines) is being carried out in broad cooperation of UEC enterprises, as well as companies belonging to the Rostec holding.