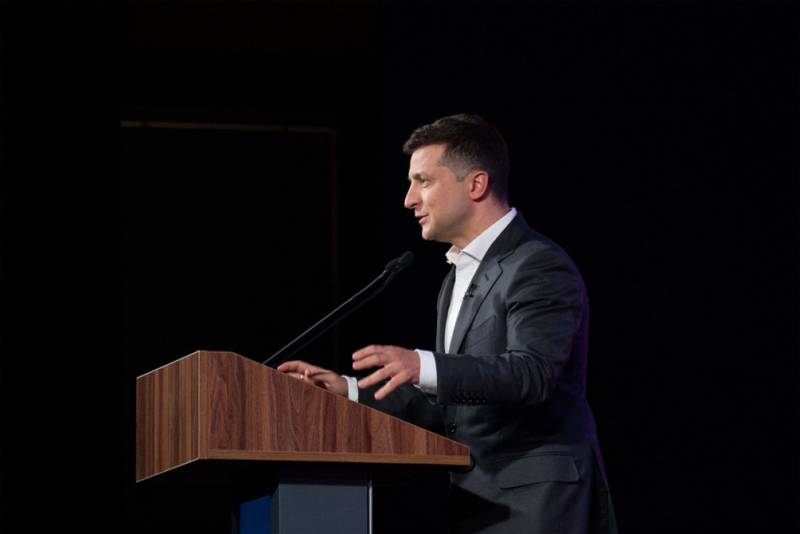 Ukrainian President Volodymyr Zelenskyy sent a bill to the Verkhovna Rada called "On the Indigenous Peoples of Ukraine." The head of the Ukrainian state called this kind of bill "urgent".
It is noteworthy that, when talking about the bill and directly to the indigenous peoples of Ukraine, Mr. Zelensky did not mention the Russian people. This is despite the fact that the Russians are not just the indigenous people of Ukraine, but also one of the state-forming ones, since there are millions of Russians in this country.
At the same time, Zelensky drew particular attention to the Crimean Tatar people, saying that he is addressing the nation in connection with the Day of Remembrance of the Victims of the Crimean Tatar Genocide.
President of Ukraine:
The Strategy for the De-occupation and Reintegration of the Temporarily Occupied Territory of Crimea and Sevastopol, approved in March 2021, defines the provision of the rights of the Crimean Tatars as an indigenous people of Ukraine.
According to Mr. Zelensky, the bill submitted to the Verkhovna Rada will consolidate the status of the Crimean Tatars.
Zelensky:
I am sure that the deputies will finally do what the 30 convocations of the Verkhovna Rada and all previous presidents have postponed for 8 years.
According to Zelensky, he is "convinced that Crimea will surely become a part of Ukraine again".
An interesting statement. It turns out that Zelensky today still does not consider Crimea a part of Ukraine ... Does it smell like separatism ...
Returning to the topic of the Crimean Tatars, Zelensky said that "there is a day in May, painted in black tones." This day is May 18. According to Zelensky, on the day of "victims of the genocide of the Crimean Tatar people, each of the 40 million citizens of Ukraine becomes a Crimean Tatar, sharing the pain of the nation."
Zelensky:
On this day, we do not say "they", but "we".
President of Ukraine:
We will not forgive the fact that 70 years later, the Crimean Tatars were forced to leave their home again due to the Russian annexation.
A strange statement. Tens of thousands of Crimean Tatars did not move anywhere from Crimea, did not leave their homes after 2014, willingly receiving passports of Russian citizens. Apparently, speaking of "forced to leave their home," Zelenskiy is referring to a narrow group of people - in particular, Dzhemilev, Chubarov and other "associates" - who intensified their efforts to receive foreign handouts and participated in outright terrorist attacks against the residents of Crimea. One example is the undermining of power transmission towers, through which electricity went to the territory of Crimea, where Crimean Tatars also live. Has Zelensky forgotten about it? If yes, then you need to remind ...