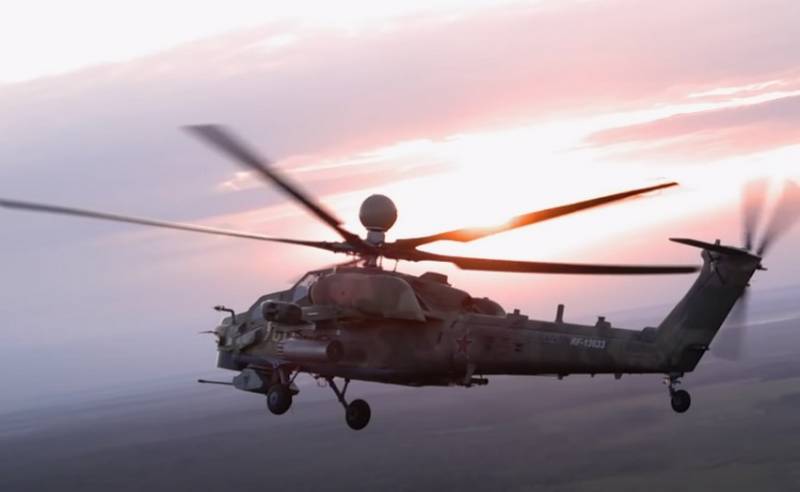 Russian attack helicopter Mi-28NM "Night Hunter" received a missile
weapon
new generation. Also, changes were made to the cannon armament.
The newest attack Mi-28NM received a more expanded range of missile weapons, including both guided and unguided missiles. In addition, bomb armament has been added to the helicopter. As Vitaly Shcherbina, chief designer of the Combat Helicopters program of the National Center for Helicopters, said in an interview
TASS
, the cannon armament was also modernized on the helicopter, this applies to the installation itself. She became lighter and got new control.
Earlier it was reported that the armament of the Mi-28NM is largely unified with the "Kamov" Ka-52M machine, it includes long-range missiles "Hermes-A", anti-tank missiles, as well as "product 305" -
aviation
cruise missile with a range of up to 100 km.
Also, the helicopter received the ability to control drones both directly from the helicopter cockpit and through ground stations. In addition, the Mi-28NM can launch kamikaze drones by itself using a special launcher.
The Mi-28HM is a new generation high-performance all-weather attack helicopter designed to perform a wide range of tasks. The machine was created taking into account the combat experience of the use of a helicopter in Syria. The onboard radar equipment Mi-28HM includes an innovative helmet-mounted target designation and indication system. The machine is equipped with a new radar H025, allowing to conduct a circular review, as well as a new system of electronic warfare. Mi-28HM equipped with a second set of controls, which significantly increases the survivability of the machine.
In total, by 2027, the Ministry of Defense will receive 98 new Mi-28NM helicopters, the supply contract has already been signed.