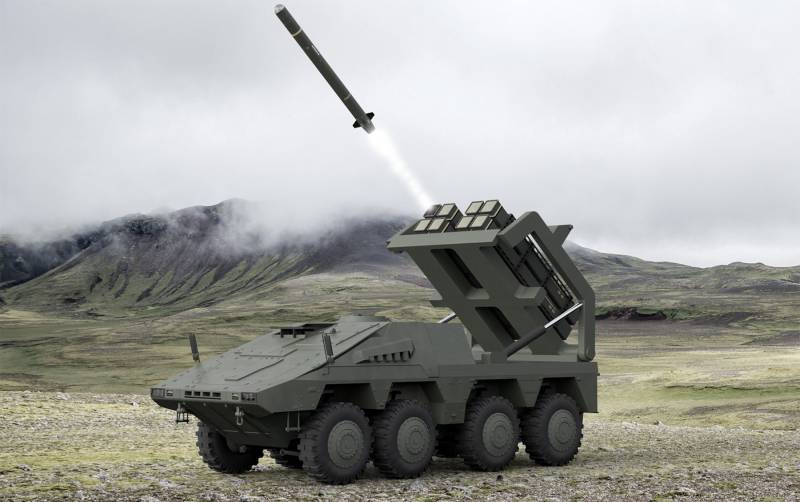 Concept from MBDA: SPTRK on Boxer chassis with Brimstone missiles
The British Ministry of Defense disclosed information on the development of a new generation of systems designed to protect battle formations from enemy armored vehicles and combat other threats.
The program, called the Battle Group Organic Anti-Armor (BGOAA), creates three products that are responsible for different segments of combat: Melee Self-Defense (CISD, portable light weapons for infantry units); "mounted" close combat (MCCO, a priority project, a long-range system providing cover for a combat group from armored vehicles with several missiles weighing up to 50 kg with a range of 10 km or more); anti-tank
weapon
close combat (CCAAW, mounted on a chassis with the possibility of dismantling, must be capable of destroying armored vehicles, even if they are out of sight).
In addition, the Land Weapons project is aimed at increasing combat effectiveness by modernizing guided weapons that have served for more than ten years.
The technologies used will make it possible to work at long distances and with greater power, providing superiority over the enemy's armored means
- said in the statement of the Ministry of Defense.
It is assumed that the products will be designed on a modular basis, which will allow the installation of launchers and missiles on various equipment, including armored ones. New systems will be able to operate in the absence of line of sight; to carry out a tip-off according to data from third-party sources [it is possible that we are talking about a network-centric battle], be controlled remotely; be able to overcome KAZ, electronic and electromagnetic protection of the enemy.
The current focus is on the MCCO project. The Ministry of Defense is working on it with the support of industry partners, including Lockheed Martin, MBDA and Thales. Apparently, MCCO will be located in the niche in the Russian army occupied by the self-propelled anti-tank complexes "Shturm-S" and "Chrysanthemum-S".