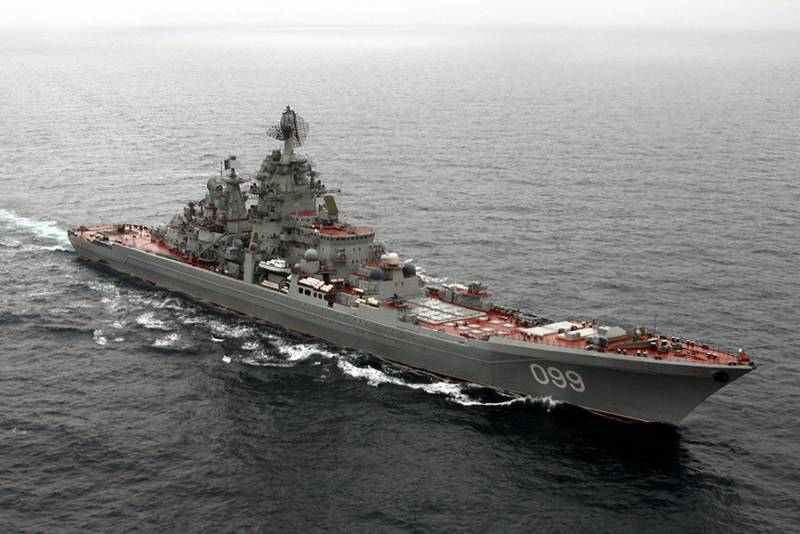 Flagship of the North
fleet
the heavy nuclear missile cruiser (TARKR) "Peter the Great" will be sent for overhaul and modernization, work on the ship is already planned. This was told by Vladimir Pospelov, a member of the military-industrial complex and the Marine Collegium under the government.
According to Pospelov, the TARKR "Peter the Great" will be upgraded immediately after the completion of work on the same type of cruiser "Admiral Nakhimov", the ship has been included in the repair plan. At the moment, the volume of planned work on the ship has not been determined, this will be done only after the modernization of the "Admiral Nakhimov"
RIA News
his words.
According to the latest
news
, TARKR "Admiral Nakhimov" will return to the fleet either at the end of 2022, as stated by the Ministry of Defense, or in 2023, according to sources in the defense industry. Thus, "Peter the Great" will start modernization in any case, either in 2023 or 2024.
It can be assumed that the modernization of the "Petr" will not differ much from the "Nakhimov", because the ships are of the same type and no one will spend extra funds on the development of a new modernization project. But the volume of work carried out will depend on the funds allocated for this.
The exact nomenclature of weapons of the modernized TARKR "Admiral Nakhimov" is unknown, but instead of a missile system with an anti-ship missile system "Granit" the cruiser has already received unified launchers UKSK 3S14, for cruise missiles "Caliber", "Onyx", "Bramos" and possibly "Zircon". Also, the cruiser was to receive the Fort-M and Pantsir-M air defense systems, as well as the Paket-NK and Otvet anti-submarine missile systems. Let's hope that "Peter the Great" will also receive new weapons.
TARKR "Peter the Great" was laid down at the Baltic shipyard on August 25, 1986, launched on April 25, 1989. In 1992 he received the name "Peter the Great". It entered the Northern Fleet on April 18, 1998. Today - the only "Orlan" project 1144, which is in service. It is the largest nuclear powered non-aircraft operating ship in the world.