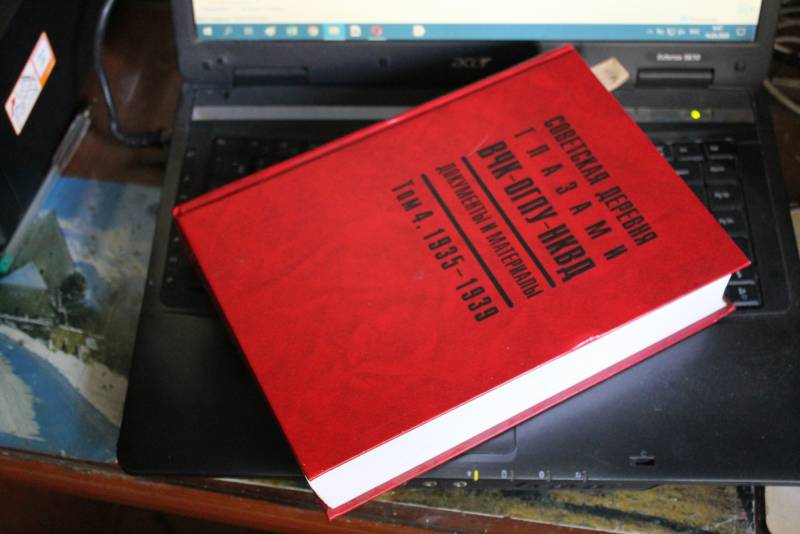 Where can one get acquainted with the top secret reports of the NKVD agents today? In the archives and ... in these collections of documents. But very few such collections are published. Let's say one for a university with 20 thousand students and 2 thousand teachers. That is, when at least some people will be able to familiarize themselves with it?
Meanwhile, a hermit in a dark cell
Here the terrible denunciation writes to you:
And you will not leave the court of the world,
How not to get away from God's judgment.
("Boris Godunov", A. Pushkin)
Paradoxes stories.
June 3, that is, pretty soon, will be a significant day. I have to go to work at the Penza State Archives. And it is significant because I signed up for this day ... in March, at the very beginning! And also on the 4th and 10th ... And then that's all - the archival staff will begin their vacation. The archive starts working at 10:00 and works until 17:00. For half an hour you will be looking for the materials or newspapers you need. Then work ... And so for three days. The question is, is there a lot of information in this way and at such a rate?
Now let's go a little from the other side. More and more people in VO are beginning to understand that information is relative. That any event occurs only when it is recorded. No description - no event. However, any description is subjective, and therefore not entirely true. What remains is a document that is more reliable than a description, since its purpose is precisely the accurate transmission of information. But the documents are not 100% devoid of distortions: either at will, or out of ignorance.
But getting documents for review is also a big problem. This was a problem in Soviet times, and now it is still a problem, although there is progress. For some reason, in pre-revolutionary Russia people were obsessed with statistics. By the way, this was what Lenin took advantage of when he wrote his famous book The Development of Capitalism in Russia. The provincial editions recorded the prices for work and food, the number of clamps and carts in the parishes, the huts covered with straw, boards and iron were listed ... The number of teachers who suffered from tuberculosis and barnacle. High school students are suicides ...
Conclusions, moreover, no one really, with rare exceptions, did not. But the facts collected in zemstvo publications and archives are of exceptional value. Moreover, their layer is so huge that no one ever thought of correcting and forging them. It's like rewriting tons of birth and baptism metrics from ... the twelfth year in some diocesan volost.
After 1917
After 1917, all these books were loaded into the premises of the former churches. Well, today they are already stored in a very, very decent environment. As well as data on industry, construction, agriculture, culture ...
Although there are some (and very serious) differences between the state archives and the archives of the regional committees of the CPSU.
First, the information, as a rule, goes at the level of the Pravda newspaper. Secondly, she is what ... she was. That is, it is sometimes very unsightly. But in Soviet times, it was possible to get to work in the archives of the OK KPSS only if you had access to secret documents No. 2 and only on the topic of your research, confirmed by a corresponding document. Steps to the left and steps to the right were not permitted. Everything that you wrote out, and everything was written out in a notebook with numbered pages, was checked and, if something was "wrong," was blotted out in blue ink.
The process of work itself was organized as follows: you come to the archive, register, fill out several questionnaires and documents. If there is room in the reading room (and there were only eight such places in the Penza archive), then you were allowed into this room. And you went to dig in a card index with an amazing number of cards, again, arranged by topic and by year. Then, having found the documents you needed, you made an application for them, and only for
five documents
... He made it out in writing and handed it over to the girl secretary. You could get them only the next day, so experienced researchers wrote applications in advance and handed them over in the morning. Then there was a chance to get five more documents in the afternoon. But not a fact ...
Now imagine that in five documents you did not find what you needed. And you will receive new ones only tomorrow. And the city is a stranger, and you yourself are on a business trip ... From anger and powerlessness you want ... But this is pointless. However, this is not all: Saturday, Sunday and Monday were non-working days in the archive. And his work ended, let me remind you, at 17:00. That is, no one, except for graduate students, in fact, had access to the party archives. And the workers and peasants, even more so.
Well, as for a graduate student, he is a specific person. His task in the USSR was to write and defend his Ph.D. thesis and receive first 280 rubles, and then, becoming an associate professor - 320. He was told that "no one has ever defended himself on one negative." Therefore, until 1988, those dissertations that were written on the materials of district committees, regional committees and even the Central Committee of the Komsomol and the Communist Party of the Soviet Union, also came out "varnished", where the positive always (!) Prevailed over the negative. The "revealing period" took place only from 1988 to 1991. But even then, there was no sense in these studies, even the most relevant and acute ones. The people did not know about them and could not read. And the "parties" could not read the "qualification works" with their hands ...
That is, we had all the same things that J. Orwell wrote about in his time:
"The goals of these three groups are completely incompatible. The goal of the higher ones is to stay where they are. The purpose of the middle is to swap places with the highest; the goal of the lower - when they have a goal, because for the lower it is characteristic that they are crushed by hard work and only occasionally direct their gaze beyond the limits of everyday life - to abolish all differences and create a society where all people should be equal.
Thus, throughout history, a struggle flares up again and again, in general terms it is always the same. For a long time, the higher ones seem to hold firmly in power, but sooner or later a moment comes when they lose either faith in themselves, or the ability to govern effectively, or both.
Then they are overthrown by the middle ones, who have attracted the lower ones to their side by playing the role of fighters for freedom and justice. Having achieved their goal, they push the lower into their former slavery position and become higher themselves. In the meantime, new averages peel off from one of the other two groups, or from both, and the struggle begins anew.
Of the three groups, only the lowest never succeed in achieving their goals, even temporarily. "
((c) The book "Goldstein" / "1984" - J. Orwell).
We also note one more important point that the "lower ones", firstly, are crushed by hard work (which VO readers constantly write about, complaining about the lack of time to deal with children!), And secondly, they are also completely separated from the primary information ... Everything they can read is secondary information, that is, subjective and inaccurate. In addition, they cannot determine the degree of inaccuracy, since they can (and do!) Compare it only with their personal life experience. Which the
a) is also subjective and
b) can be formed by various technologies of public opinion management.
After 1991
The situation seems to have changed radically after 1991. Now any citizen of Russia can come to the Regional Archives, clearly explain why he needs to work in this or that archive, get permission, say, to work in the former archive of the OK KPSS. Well, let's say, in the same Penza OFOPO GAPO. Go there and ... You will be allowed to the file cabinet, you choose the cases you need, they bring them to you - and they can bring more than five. And no one is watching your work anymore. Photograph whatever you want. A photocopy is made at a price of 10 rubles per sheet. In short, I don't want to work.
Everything is more complicated in the State Regional Archives. Free access has led to a tremendous demand for ... the search for pedigrees. And there are only 11 seats in the reading room! People were queuing up in the morning, hoping to get there in the afternoon. Or in March they sign up for June 3! That is, in all respects today it is more profitable to work in the former party archives. There are no queues. And the information, and the most reliable, there is just a sea. But there is no Pravda newspaper in OFORO GAPO - all the files were transferred to the regional archive!
It is clear that mainly pensioners are engaged in the search for pedigrees. For many grandmothers, this is a good extra money. Searching for one pedigree costs 10 thousand rubles. But the archive had to set aside days for such "search engines". And it turns out that out of four working days, two are given to them, and two - to everyone else. True, graduate students and applicants for scientific degrees from other cities, if they have a business trip, are allowed out of turn. But how much can you do in four days?
I remember how in 1987 I finally got a business trip to the archives of the Komsomol Central Committee in Moscow. Scientific supervisor, Professor Medvedev ordered me to write out from other people's dissertations all references to cases that could somehow be useful to me. And immediately upon arrival, sign the book of their receipt, and only look ... then!
The archive was located opposite the building of the KGB and the "iron Felix" in the courtyard (!) Of some high-rise building. I arrived there at the very opening, smelled the old smell of sour cabbage soup in the corridor, and ... I very much upset the worker of the reading room there by immediately demanding an inventory of cases and starting to sign it, but did not look for anything, but five cases were immediately. She had hoped to sit and knit, but then it turned out that she had to work. "When will I find them ..." - she began. "I give you an hour, then I write a complaint to the director of the archive!" And it worked. Thus, in a day I processed as many as 15 cases, and at the time, while she was looking for a new party, I went to Detsky Mir.
Now the attitude towards researchers is different. Especially if they pay. But there are only a lot of people, especially those who are looking for the "shadows of forgotten ancestors." It turns out that they only have two days to work!
That is, again, not a pensioner, but a working person, today, even in his hometown, he practically cannot get into the archive. He, of course, can go to the archive via the Internet and ask him to find almost any number of any cases and send them in the form of photocopies and photocopies. But only this service is not cheap, especially if you do not know the cipher of the document you need. You can also get cases over the limit in the reading room of the archive itself, but for money. 80 rubles is one thing. It seems a little. But if there is a lot to do, then a lot!
So it turns out that, as before, people interested in the primary, most reliable and truthful information are in one place, and the information they are interested in is in another.
As a result, they are forced to be content with secondary information. That is, someone's writings, and even mostly without references to sources of information. Of course, "it is customary for gentlemen to take their word for it." But how many such "gentlemen" do we have in our country ?! And by and large they had nowhere to come from. Their generation has just begun ...