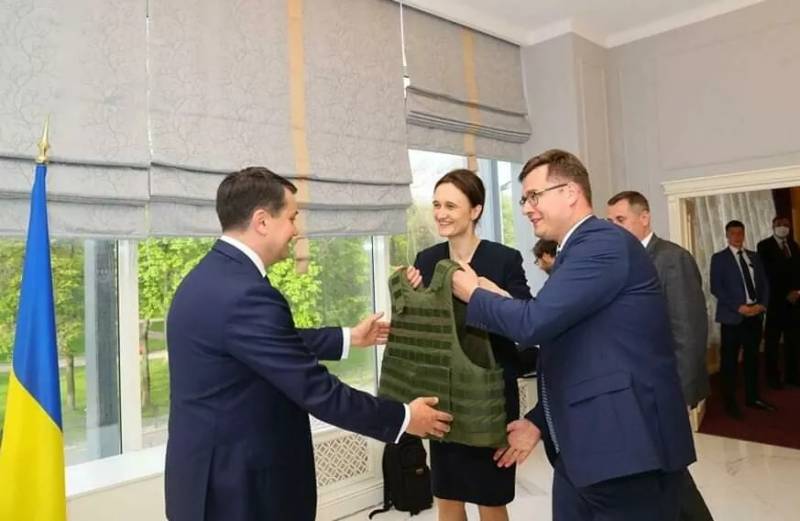 Lithuania does not intend to stop providing military assistance to Ukraine. In order to support Kiev in the military conflict in Donbass, the Ministry of Defense of Lithuania decided to transfer a batch of body armor to the Armed Forces of Ukraine.
The Lithuanian military department is preparing for the transfer of a large batch of body armor to the Ukrainian military, according to preliminary data, approximately for equipping the battalion. Protective equipment should arrive in Ukraine by July 1.
In addition, as stated by the head of the National Security and Defense Committee of the Lithuanian Seimas Laurynas Kasciunas, Lithuania will continue to receive Ukrainian military personnel on its territory as part of a rehabilitation program, Lithuanian military instructors will continue to train Ukrainian military personnel, and the Lithuanian armed forces have promised to participate more often in military exercises conducted by Ukraine. True, with one clarification: all this will be implemented after the coronavirus pandemic ends.
Lithuania not only politically supports Ukraine's Euro-Atlantic aspirations. But we also make practical decisions. (...) Lithuania not only speaks, but also does
- wrote Kasciunas on Facebook.
The Lithuanian Seimas confirmed the transfer of protective equipment to the Ukrainian Armed Forces. It is stated that about 700 body armor will be handed over to Kiev.
Note that Lithuania from the very beginning, from 2014, began to provide military assistance to Ukraine, supplying the Armed Forces of Ukraine with small arms
weapon
and Soviet-caliber ammunition removed from the armament of the Lithuanian army after joining NATO and the transition to Western standards.