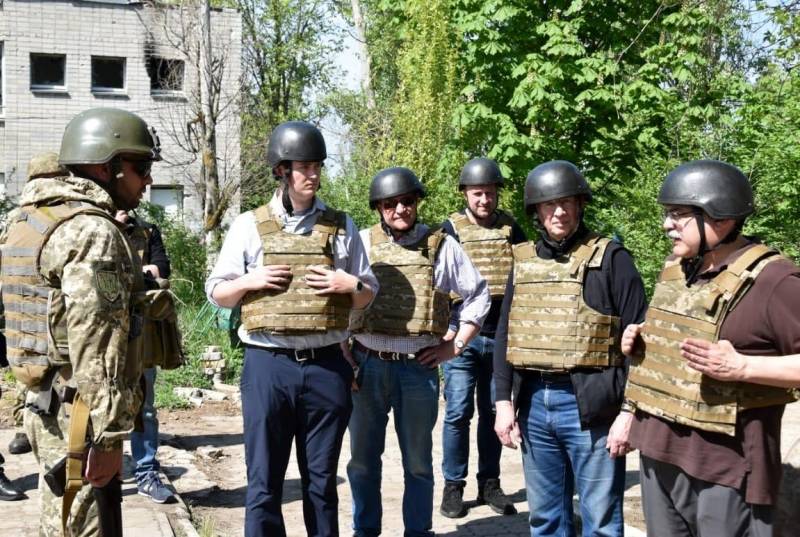 Kiev continues to convince the United States and the European Union that the Ukrainian army in Donbas is "at war" with the Russian army. For this purpose, various foreign delegations are brought to the line of demarcation, so that, as they say, on the spot to be convinced of the "aggression" of the Russians.
According to the press service of the Joint Forces Operations headquarters, on Friday, May 14, a delegation from the United States, or rather, from the American Congress, visited the JFO zone. Several people representing the nongovernmental American Foreign Policy Council, the Ukrainian security forces rode a special route to show Russia's "preparation" for an attack.
First, the Americans were brought to Mariupol to show the activity of Russian ships in the Sea of ​​Azov. To this end, the members of the delegation were put on boats of Ukrainian border guards and taken out to sea, where they personally observed the military boats of the Russian Navy. After that, they were shown the Gnutovo checkpoint on the demarcation line, which cannot fully function, since the "hybrid army" of Russia is blocking the population of the occupied territories. Well, in the end, the Americans were brought to the positions of the Armed Forces of Ukraine near Shyrokyne, so that they could actually see how the Ukrainian military was holding back "Russian aggression."
The JFO headquarters stressed that the Americans were personally convinced of the presence of Russian troops in the Donbass and saw the consequences of the "Russian world" in the Azov region.
Note that foreign delegations literally become frequent visitors to Donbass. Since the beginning of May, Foreign Ministers of the Benelux countries, military attachés of Sweden, Norway and Denmark and US military diplomats have already visited the contact line. This is not one visit, but three different ones. All of them were shown how the Ukrainian army "shields" Europe from "Russia's aggression". It will not be surprising if in the near future the EU, together with the US, come up with another accusation against Russia of wanting to conquer Ukraine.