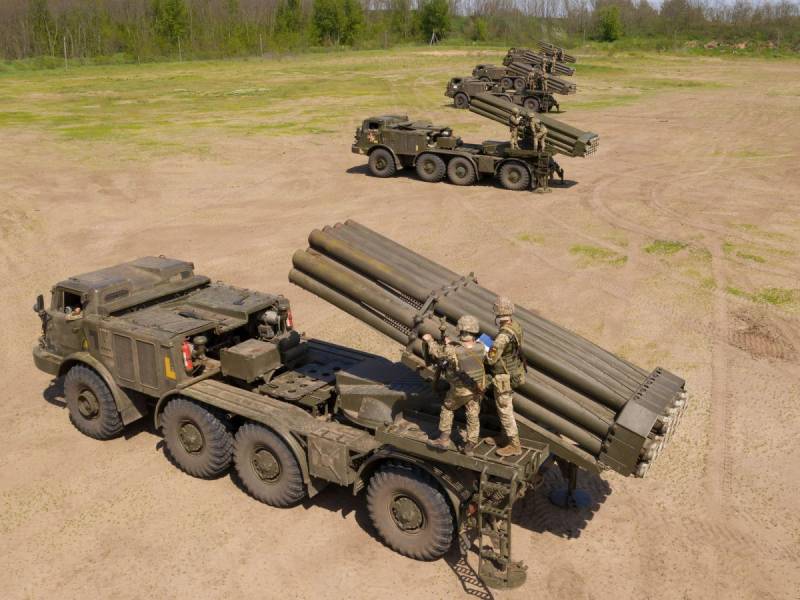 Ukraine continues to conduct military exercises near Russian borders, while at the same time accusing Russia of conducting military exercises with Ukrainians. The next exercises were held near the Crimean border.
According to the press service of the Joint Forces Operation (JOS, former ATO), units of the Armed Forces of Ukraine have worked out the actions of rocket artillery at the "administrative" border "of the temporarily occupied" Crimea. MLRS "Uragan" were involved in the exercises.
According to the exercise scenario, Uragan MLRS launchers moved into position from the concentration area, occupied them and guided them to conditional targets on enemy territory "for their further destruction." It is stated that the calculations were trained to repel the amphibious assault, defeat armored vehicles, and also lay minefields in the direction of the enemy's probable offensive, in the role of which, of course, Russia is acting.
According to the commander of the joint forces of the Armed Forces of Ukraine, Lieutenant General Sergei Naev, the tasks of the exercises have been completed in full, the goals have been achieved.
Planned field trainings on the coherence of calculations of multiple launch rocket systems "Uragan" took place in conditions as close as possible to combat
- quotes the press service of Naev's statement.
According to the general, the MLRS installations are in a state of full combat readiness and in the event of a "threat" they are ready to move into position and repel it.