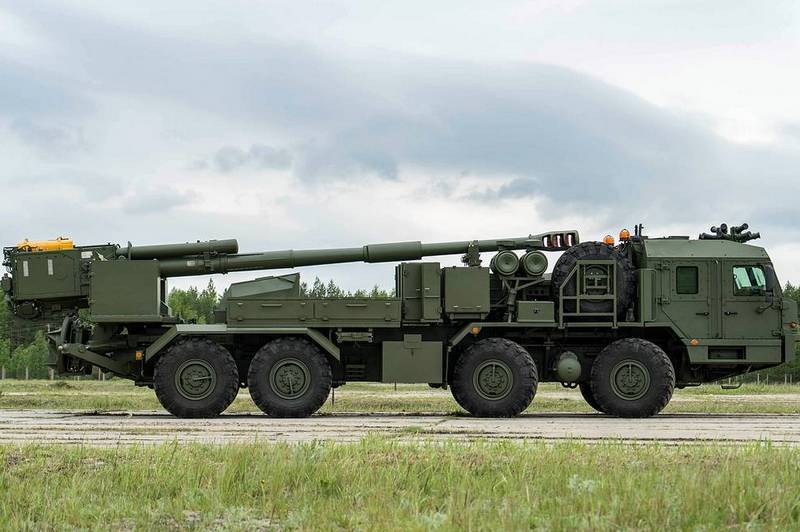 The newest self-propelled artillery gun (SAO) 2S43 "Malva" may enter service with the Airborne Forces, this option, among others, is being considered by the Ministry of Defense.
The military department does not exclude the adoption of the "Malva" into the armament of the landing, in the event of such a decision, the self-propelled gun will be supplied to a separate artillery brigade of the Airborne Forces, the formation of which has just begun. Reportedly
"News"
With reference to sources in the Ministry of Defense, the final decision on the "Malva" has not yet been made.
According to military experts, the Airborne Forces can be armed with a powerful wheeled artillery system that can significantly increase the firepower of the landing. It is noted that although the installation is not intended for parachuting, it can be transported by transport aircraft. The wheelbase will allow the CAO to move quickly on the roads.
SAO 2S43 "Malva" is being developed by the Central Research Institute "Burevestnik" within the framework of the ROC "Sketch". For the first time, the howitzer was presented in 2019 behind closed doors, details of the development are not provided.
It is known that the 152-mm 2A64 cannon used in the Msta-S self-propelled guns is used as a firing component at Malva. It is possible to install an upgraded version of this gun, but the data is missing due to the secrecy of the development. The transportable ammunition load of the howitzer is 30 rounds, the weight of the CAO is 32 tons. The chassis of the "Malva" is the BAZ-6010-027 all-terrain vehicle with an 8x8 wheel arrangement manufactured by the Bryansk Automobile Plant.
State tests of "Malva" will begin in 2022.