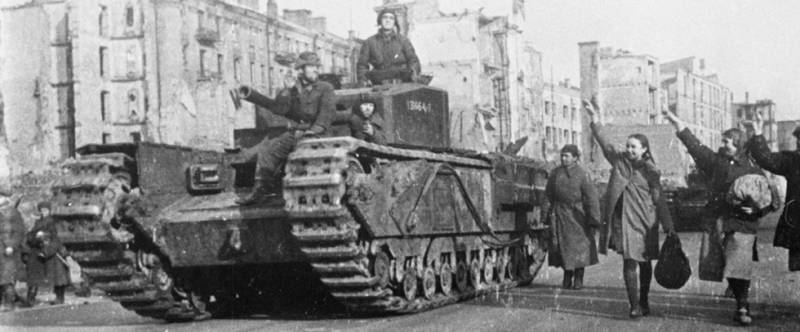 Introducing the video cycle "Inside
tank
"From the creators of the famous game World of Tanks. The project is dedicated to the review of combat vehicles, and Richard Cutland, a representative of the British tank forces, will talk about the steel monsters. This time, the British tanks Churchill and Cromwell were in the center of his attention.
The Churchill tank was created in 1941 and named after British Prime Minister Winston Churchill. It was a very sturdy car. For example, in the Churchill VII modification, the armor was thicker than that of the German Tigers. However, this had to be paid for with modest indicators of dynamics and maneuverability. The motor developed a power of 350 hp, but the speed did not exceed 24 km / h.
Another distinctive feature of the tank is the chassis, which has no analogues among the combat vehicles of the Second World War. It consists of 44 rollers, placed on separate carts, attached to the tank hull. Each of the bogies has a lubrication neck through which the chassis was serviced.
The crew consisted of 5 people who were comfortable enough inside the car. The main armament of the Churchill was a 75 mm gun, to the right of which was one of the two installed machine guns. Meanwhile, in the "Crocodile" modification, instead of a machine gun, a flamethrower was installed in the frontal sheet of the hull.
What else is remarkable about the car and what is inside the famous "Churchill", see the video from Wargaming.
The British Cromwell medium cruiser tank was in service from 1942 to 1952. At one time, it was the main combat vehicle of the 7th Panzer Division, nicknamed "Desert Rats". Its mass reached 27,5 tons, and the thickness of the armor was about 70 mm, which was not bad for a cruising tank of that time.
Despite the fact that the crew of the "Cromwell" consisted of 5 people, the dimensions of the tank are small. The main armament of early releases was the 57 mm Mk III cannon, which was later replaced by a 75 mm cannon. In addition, there was one machine gun in the tower and in the hull.
In addition to the cannon, there are two hatches outside the vehicle - the loader's hatch and the commander's hatch, on either side of which there are periscopes. You can also see a simple exhaust fan for removing powder gases after firing.
In the engine compartment there is a 12-cylinder carburetor engine with 27 liters and 600 hp. In fact, this is the same engine that was installed on the Supermarine Spitfire, but with a reduced number of revolutions.
The chassis is quite simple. The car is equipped with a Christie type suspension - 5 road wheels on each side. The drive wheel is located at the rear of the tank.
All design features and internal structure of the famous "Cromwell" watch in the video from Wargaming.