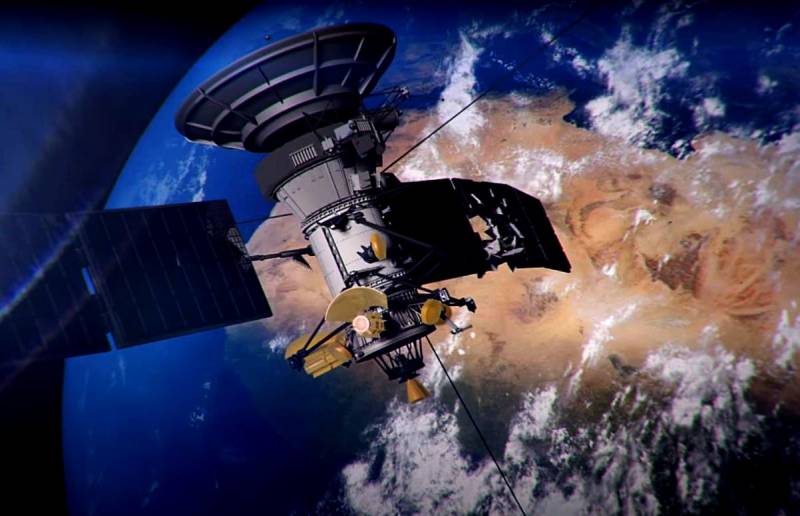 The decision to cease the operation of two experimental missile warning satellites was announced by the US Missile Defense Agency. These satellites, developed by Northrop Grumman Corporation, were launched in 2009. Then it was assumed that they would be in operation for two years, but it turned out that both satellites served for more than ten years.
American columnist Nathan Stroot writes that the Space Tracking and Surveillance System (STSS) satellites were created to track ballistic missiles using special infrared Raytheon sensors at an altitude of 1350 kilometers above the Earth's surface. The received sensing data was transmitted to the missile defense system to intercept missiles. Infrared sensors work 24 hours a day, tracking ballistic missiles around the world.
In 2013, the STSS satellite sent tracking data to a US Navy cruiser. An interceptor was launched from the ship, successfully destroying the ballistic missile. Thus, the system has shown a fairly high degree of efficiency in a critical situation. It would seem that the experiment with missile warning satellites would go on and on, but certain difficulties arose.
The Missile Defense Agency originally requested $ 34,1 million to support the satellite program in its fiscal 2021 budget request. As a cost justification, it was pointed out that satellites continue to provide missile warning and support testing of future missile tracking systems.
But soon the plans for further operation had to be abandoned: the agency's specialists found that outdated control systems and depleted fuel reserves make the further operation of satellites irrational. Moreover, a new constellation of missile attack warning satellites has appeared, which is more modern and technically advanced.
As a result, on May 11, MDA director John Hill announced the imminent abandonment of experimental satellites, but did not name the exact time for their de-orbiting. Hill only stressed that the satellites will be de-orbited over the next two years, followed by replacement with new vehicles.
At the same time, the US Missile Defense Agency does not abandon the further implementation of the concept of tracking and intercepting missiles using space-based sensors. In collaboration with the Space Development Agency, MDA is working on a hypersonic space tracking sensor to alert the Pentagon of a potential threat from Russian or Chinese hypersonic missiles.
The high speed, maneuverability and low altitude of some modern missiles make them difficult targets for our missile defense systems.
- highlighted in the MDA statement.
In this situation, the agency notes, missile attack warning satellites make it possible to track the missile's path and, accordingly, control emerging missile threats to instantly neutralize them.
In January 2021, the Missile Defense Agency signed contracts with L3Harris corporations - for $ 133 million, and Northrop Grumman - for $ 155 million. Both companies will develop prototypes of new HBTSS missile warning satellites.
It is planned that HBTSS will interact with a group of satellites equipped with SDA infrared sensors, receiving information from them and then broadcasting it directly to the armed forces, which will direct and launch interceptors to destroy enemy missiles. The US Missile Defense Agency estimates that the first SDA satellites will be launched in 2022 and experimental prototypes HBTSS in 2023.