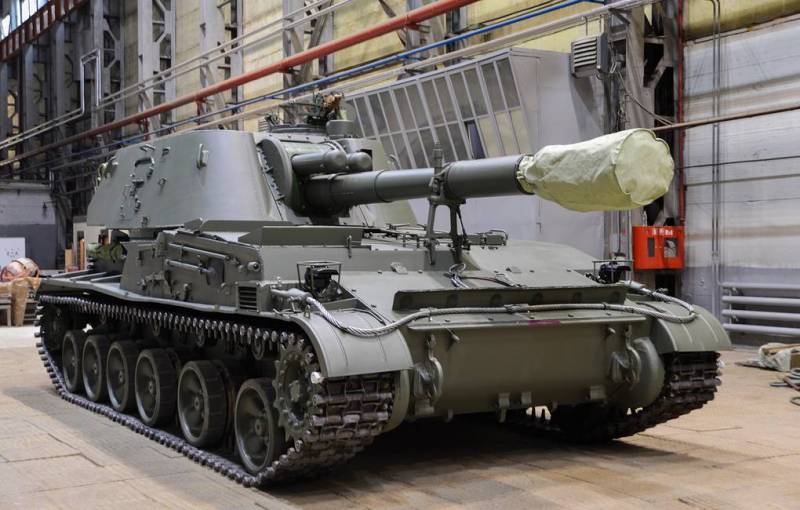 The Ministry of Defense has received the first batch of 2S3M "Akatsia" self-propelled artillery mounts that have passed the modernization. The delivery was carried out within the framework of the state defense order.
The delivery of the ACS was carried out by Uraltransmash, the only plant in Russia that manufactures and, accordingly, repairs self-propelled artillery installations. The ACS "Akatsia" transferred to the Ministry of Defense underwent major overhaul and modernization. The details of the modernization were not disclosed, it is stated that all imported components have been completely replaced on the machines, and new communications have been installed.
The press service clarified that all the self-propelled guns handed over to the military are equipped with spare parts and accessories and the necessary tools.
How many cars in the transferred batch are not reported, it is noted that this is the first transfer to the military that have undergone overhaul with the modernization of the ACS 2S3M2 "Akatsia". All work was completed on time within the framework of the state defense order.
ACS 2S3M2 "Akatsiya" - self-propelled artillery mount of 152 mm caliber. The basic version of the self-propelled guns entered service with the Soviet army in 1971. In the late 1970s, the ACS were upgraded to the 2S3M standard, and then the 2S3M1, receiving a new fire control system and communications equipment. In 2004-2009, part of the Akatsy was upgraded to the 2S3M2 level.
Despite its age, the Akatsiya self-propelled gun is still one of the main artillery systems of the Russian army. The mass of the modernized ACS is 27 tons, the effective fire range is from 17 to 20 km, depending on the type of ammunition. The main purpose is destruction and artillery,
tanks
, self-propelled guns and other armored vehicles, destruction of field and long-term defensive structures.