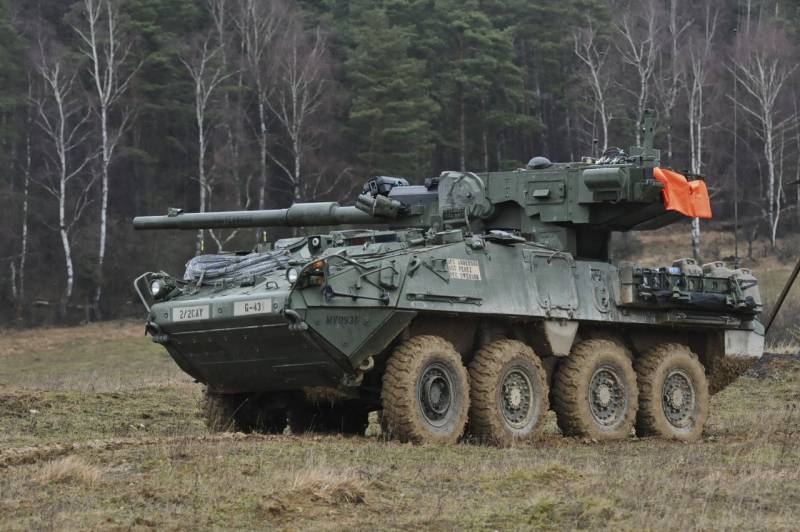 The US Army has finally abandoned the use of "wheeled
tanks
"М1128 Mobile Gun Systems, created on the basis of the Stryker armored personnel carrier. The reason is constant problems with the gun and automatic loader.
M1128 MGS (Mobile Gun System) - Stryker armored personnel carrier with an installed uninhabited turret with a 105-mm M68A1 rifled cannon equipped with an automatic loader with 18 rounds. As an auxiliary
weapons
this "wheeled tank" used a coaxial M2HB machine gun and smoke grenade launchers.
Currently, a decision has been made to write off all M1128 Mobile Gun Systems due to problems with the outdated gun and automatic loader. Another reason for this is the lack of mine protection, the car has a flat bottom, unable to protect the crew from mines and IEDs. The final decommissioning of the Stryker armored personnel carrier with the 105-mm cannon is scheduled for the end of 2022.
Instead of the Stryker MGS, the US Army intends to use the Stryker MCWS armored personnel carrier with a 30-mm cannon (Medium Caliber Weapons System) and the CROWS-J DUM with Javelin missiles. In addition, in the near future, at least as stated in the command of the US Army, the Ground Forces will adopt a new light tank, which is being developed by General Dynamics Land Systems and BAE Systems.
The Stryker is a family of wheeled armored combat vehicles designed and manufactured by the American company General Dynamics Land Systems. Stryker armored personnel carriers entered service with the American army in 2003. The combat vehicle can accommodate twelve people, including three crew members. On the basis of Stryker, the M1128 Mobile Gun System wheeled tank, the M1129 Mortar Carrier mobile mortar and more than a dozen other types of combat, engineering and auxiliary vehicles were created.