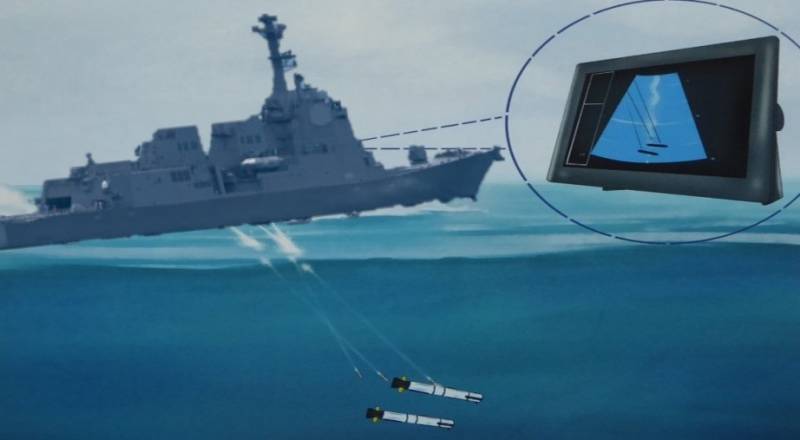 In articles
Surface ships: repel an anti-ship missile strike
и
Surface ships: evade anti-ship missiles
we examined ways to ensure the protection of promising surface ships (NK) from anti-ship missiles (ASM). Torpedo armament poses no less, but in some ways a greater threat to NK. At the same time, it poses the maximum threat to
diving surface ships and semi-submerged ships
.
This threat must be combated, and there are many applicable and promising methods of protection against torpedo weapons.
False targets
As with anti-ship missiles, torpedoes can be distracted by decoys. False targets can be different - thrown with the help of special launchers and fired from torpedo tubes, drifting, self-propelled and towed.
One of the most advanced and multifunctional systems of this type is the ATDS (Advanced Torpedo Defense System) developed by Raphael, which includes a towed sonar station (GAS) for detecting torpedoes, ATC-1 / ATC-2 towed modules, throwable torpedo destroyers Torbuster, decoys Scutter, Subscut and Lescut.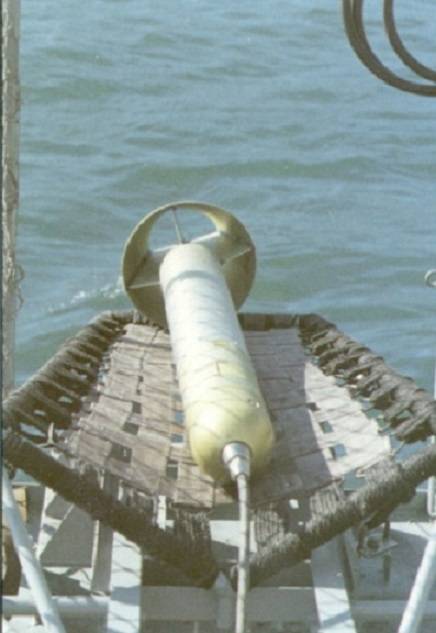 Towed Trap ATC-1 (Acoustic Torpedo Countermeasures)
From left to right: Torbuster self-propelled destroyer, Scutter self-propelled simulator, Subscut and Lescut drifting jammers
In a number of articles published both on the Military Review and on other resources, it is said about the insufficient effectiveness of the decoys in service with the Naval
fleet
(Navy) RF. Obviously, decoy anti-torpedo targets are much more complex products than traps designed to distract RCC, which in the simplest version can be an inflatable corner reflector. In addition, when aiming torpedoes using telecontrol via fiber optic cable, its ability to recognize false targets will be much higher. However, this applies only to torpedoes launched from submarines - rocket-torpedoes cannot have such an opportunity.
Laser weapons
Seemingly laser
weapon
and anti-torpedo missions are not compatible? However, not all so simple. There is the so-called light-hydraulic effect of Prokhorov / Askaryan / Shipulo - the phenomenon of the appearance of a hydraulic shock pulse when a light beam of a quantum generator is absorbed inside a liquid.
In an experiment conducted by Prokhorov, Askaryan and Shipulo in 1963, water tinted with copper sulfate was irradiated with a powerful beam of a pulsed ruby ​​laser. Upon reaching a certain radiation intensity, the formation of bubbles began, and then the liquid boiled. If the beam was focused near the surface of a body immersed in water, explosive boiling took place and shock waves propagated, which led to damage to solid surfaces - up to the destruction of the cuvette and the ejection of liquid to a height of up to 1 meter.
The light-hydraulic effect can be used to generate sounds at a distance, away from the ship. Laser generation makes it possible to construct an effective broadband sound source with a frequency range of the emitted acoustic signal from hundreds of hertz to hundreds of megahertz.
How can this effect be used in the interests of the Navy?
Two possible directions of use can be assumed. The first is the creation of a false acoustic target away from the surface ship. Moreover, by moving the laser beam over the surface, such a "virtual" false target can be made movable.
The second direction is the use of laser radiation as one or more external sources of active illumination for hydroacoustic stations (GAS). In this case, both the efficiency of the GAS can be increased, and the unmasking of the NC can be reduced due to the removal of the radiation source away from the NC.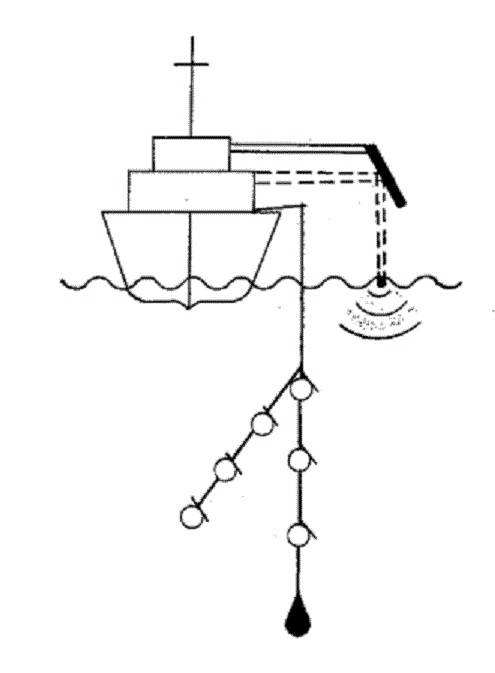 Diagram of field experiments on recording acoustic signals generated by laser radiation from the board of a research vessel and received by sensitive hydrophones
The use of the light-hydraulic effect on submarines (submarines) may be impossible or very difficult, since the boiling of water will begin immediately at the point of exit of the beam. However, the options for implementing the output of the laser beam through a mobile autonomous device connected to the submarine with an electric and fiber-optic cable can potentially be considered (the fiber will be used to transmit laser radiation).
On diving surface ships or submerged ships, laser radiation can be output through optical fiber to the top of the superstructure, located above the water, just like
on nuclear submarines Virginia it is planned to output laser radiation through the periscope to destroy air targets from the periscope depth
.
Anti-torpedoes
A promising and effective means of countering a torpedo attack are anti-torpedoes (anti-torpedoes). In part, these include the previously mentioned Torbuster self-propelled simulator-destroyer from the Raphael company ATDS PTZ.
In Russia, the PAKET-E / NK complex has been created and is being installed on new surface ships. The PAKET-E / NK complex includes a specialized GAS, an automated control system, launchers and small-sized 324 mm torpedoes in anti-submarine (MTT) and anti-torpedo (AT) versions, placed in transport and launch containers (TPK).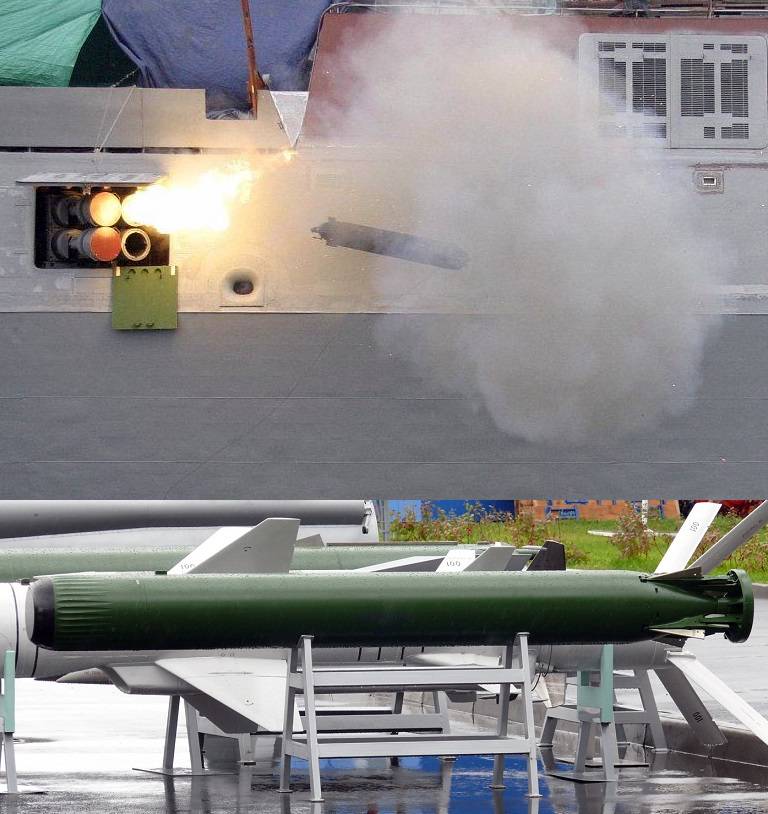 Operation of the "Packet-E / NK" complex and a small-sized anti-torpedo
The range of AT counter-torpedoes is 100-800 meters, the immersion depth is up to 800 meters, the speed is up to 25 meters per second (50 knots), the warhead weight is 80 kilograms. The launcher of the PACKET-E / NK complex can be either fixed or rotary, in two-, four- and eight-container versions.
Rocket Launchers
There is and is still used such anti-torpedo / anti-submarine weapons as rocket launchers. Large surface ships of the Russian fleet are equipped with the UDAV-1M anti-torpedo ship defense rocket system (RKPTZ), designed to defeat or deflect torpedoes attacking the ship. The complex can also be used to destroy submarines, submarine sabotage forces and assets.
It can be assumed that rocket launchers can be effective as a means for deploying (throwing) self-propelled imitators-destroyers, self-propelled simulators, drifting jammers or anti-torpedoes. At the same time, their effectiveness as a means of destroying modern torpedoes with unguided ammunition can be questioned (high ammunition consumption with a low probability of defeat).
Short-range anti-torpedo defense systems
For the destruction of anti-ship missiles at short range, the NK uses anti-aircraft artillery systems (ZAK), which use automatic rapid-fire cannons with a caliber of 20-45 mm. At the moment, their anti-missile effectiveness is often questioned, in connection with which there is a tendency to abandon the ZAK in favor of short-range anti-aircraft missile systems (SAM), such as the American RIM-116.
At the same time, on the basis of small-caliber automatic rapid-fire cannons, effective means of short-range anti-torpedo defense (AT) can potentially be implemented. The key element of such a complex will be promising small-caliber projectiles with a cavitating tip, which can effectively overcome the air / water cut and travel a significant distance under water without losing kinetic energy and significant deviation of the trajectory of movement.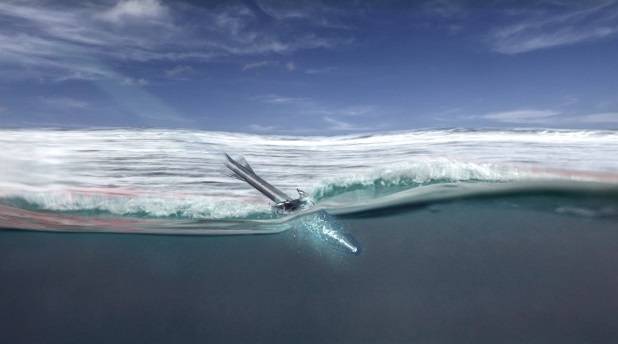 Cavitating munitions can cross the air / water border without ricochet and significant deviation from the trajectory
Currently, the Norwegian company DSG Technology occupies a leading position in this area. DSG Technology specialists have created a range of 5,56 to 40 mm ammunition. In the context of solving the problems of anti-torpedo defense, ammunition with a caliber of 30 mm is of greatest interest, which, according to experts, can ensure the defeat of torpedoes at a distance of up to 200-250 meters.
For submarines, diving surface ships and semi-submersible vessels, submarine ZAK can potentially be developed by analogy with underwater submachine guns for combat swimmers (semi-submersible ships can also accommodate ordinary lightweight ZAK, on ​​a wheelhouse protruding above the water).
The operation of underwater ZAK can potentially "clog" the noise generated by the GAS, making it difficult to target both the ZAK themselves and the launched anti-torpedoes. However, it is possible that in the process of testing it is possible to remove the parameters of the noise produced by the underwater ZAK in order to filter them out by the GAS equipment. In addition, the work of submarine ZAK can be carried out at short intervals, in a state of "extreme necessity", when the enemy's torpedoes have already passed other lines of anti-torpedo defense.
To increase the efficiency of detecting and destroying enemy torpedoes at short range, promising laser radars - lidars - can be considered.
Lidar
The lidar is based on the reflection of optical radiation from an opaque body. Lidars can form a two- or three-dimensional picture of the surrounding space, analyze the parameters of a transparent medium through which optical radiation passes, and determine the distance and speed of objects.
The scheme of the lidar
The lidar sweep can be formed both mechanically - by rotating the source of optical radiation, the output of fiber optics or mirrors, and using a phased antenna array. Radiation in the green or blue-green region of the spectrum has the best permeability to water. Currently, the leading position is held by laser radiation with a length of 532 nm, which can be generated with a sufficiently high efficiency by diode-pumped solid-state lasers.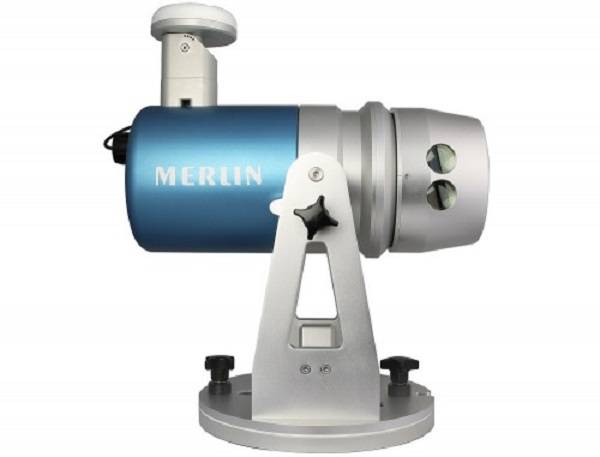 Carlson Merlin shipborne lidar for marine imaging with a range of up to 250 meters
The leader in lidar-based underwater vision systems is Kaman, which has been developing such systems since 1989. If initially the range of lidars was limited to a few tens of meters, now it is already hundreds of meters. Kaman also proposed using lidars to control torpedoes via an optical channel.
Presumably, part of Kaman's work on naval issues may be classified, in connection with which there may already be quite effective lidars in the arsenal of a potential enemy.
China is currently developing a space system designed to detect and recognize enemy submarines from space using lidar. Presumably, such developments are underway in Russia. US NASA and the Defense Advanced Research Projects Agency (DARPA) are funding projects aimed at solving the problem of detecting submarines at a depth of 180 meters below the surface of the water.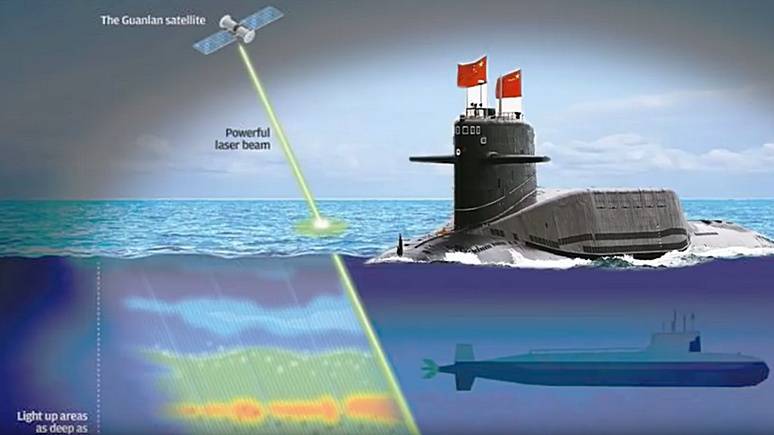 Improving lidars will allow them to play an important role in solving anti-submarine and anti-torpedo missions
It can be assumed that the integration of promising lidars into anti-torpedo defenses will significantly increase the likelihood of detecting enemy torpedoes and hitting them with anti-torpedo weapons.
The use of lidars will make it possible to implement anti-aircraft defense systems for short-range defense not only on the basis of cavitating ammunition, but also on the basis of small-sized high-precision anti-torpedoes. In some ways, this will be the equivalent of active protection complexes (KAZ) used on
tanks
.
Anti-torpedo complexes of active protection
Detection of enemy torpedoes with the help of a lidar will ensure the guidance of small-sized anti-torpedoes at them with high accuracy. A promising anti-torpedo KAZ will include a launcher, lidar and small-sized anti-torpedoes, controlled via fiber optic cable.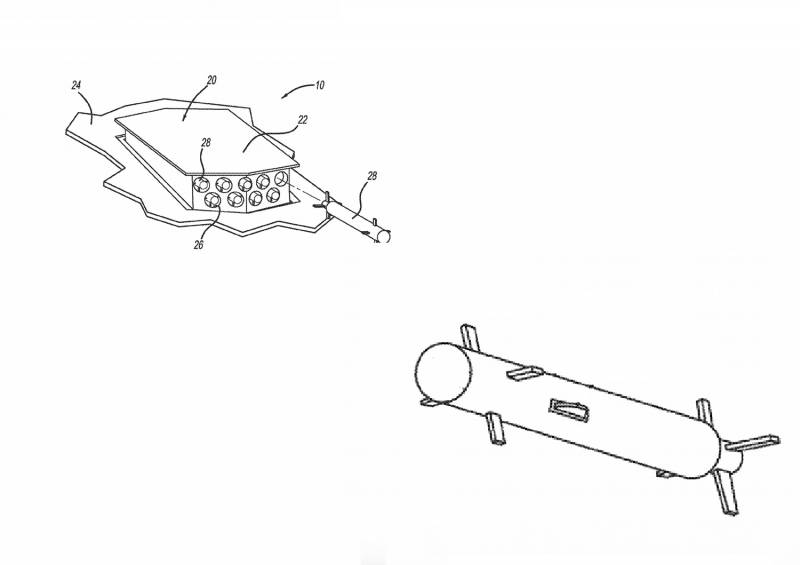 Images of the anti-missile aviation unit from the Northrop Grumman patent - the anti-torpedo KAZ can be implemented in approximately the same format
The anti-torpedo KAZ can presumably have a range of up to 500 meters. The range of lidars required for accurate targeting of anti-torpedoes currently reaches about 200-300 meters. The laser beam is able to cover a greater distance, but the reflected signal is scattered much more. By placing the receiver in the homing head (GOS) of the anti-torpedo, an algorithm can be implemented when the anti-torpedo is launched towards the enemy torpedo according to the primary data received from the GAS, and as the anti-torpedo approaches the enemy torpedo, the reflected laser radiation of the lidar installed on the carrier will be to be caught by the anti-torpedo seeker and processed by the KAZ equipment in order to correct the anti-torpedo trajectory.
Thus, the combined use of anti-torpedoes (up to 1000-2000 meters), anti-torpedo KAZ (up to 400-500 meters) and anti-torpedo defense ZAK (up to 200-250 meters) will ensure the consistent defeat of enemy torpedoes at a distance of several tens of meters to several kilometers. with overlapping of affected areas by different complexes.
ANPA
Autonomous unmanned underwater vehicles (AUVs) can play an important role in anti-torpedo defense. Depending on the tasks being solved, the AUV can be completely autonomous or be supplied with power and controlled from the carrier - a surface ship, a surface diving ship, a semi-submerged ship or a submarine (led by AUV).
AUVs can perform the function of an advanced hydroacoustic patrol, act as a carrier of lidar and anti-torpedoes (to expand the zone of destruction of enemy torpedoes), and solve mine-action missions. Small-sized slave AUVs can be created, the task of which will be to accompany the carrier and protect it from enemy torpedoes by approaching and self-detonating at the meeting point.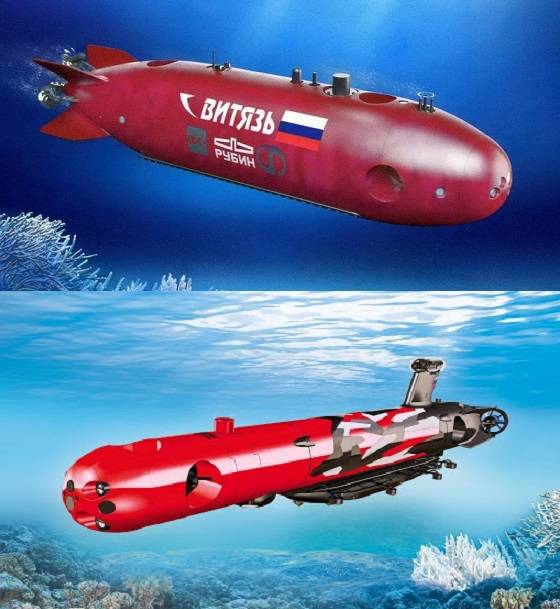 AUV "Vityaz" and "Amulet-2" SKB "Rubin"
conclusions
A significant number of different anti-torpedo defense systems exist and are being developed, potentially capable of making it as difficult as possible to defeat surface ships, surface diving ships, semi-submerged ships and submarines from being hit by torpedo weapons.
Protection of ships from torpedo weapons is especially important for surface diving ships and semi-submerged ships, the attack of which by anti-ship missiles is difficult, and against which missile-torpedoes and torpedoes launched from submarines will be mainly used.
In general, taking into account the significant progress in the development of space and
aviation
reconnaissance assets, as well as reconnaissance unmanned surface ships and autonomous unmanned underwater vehicles, the likelihood of surface ships and submarines to be detected and attacked by superior enemy forces significantly increases.
Based on this, active defense means that can effectively resist massive attacks with anti-ship missiles and torpedo weapons come to the fore in the development of the Navy.
.