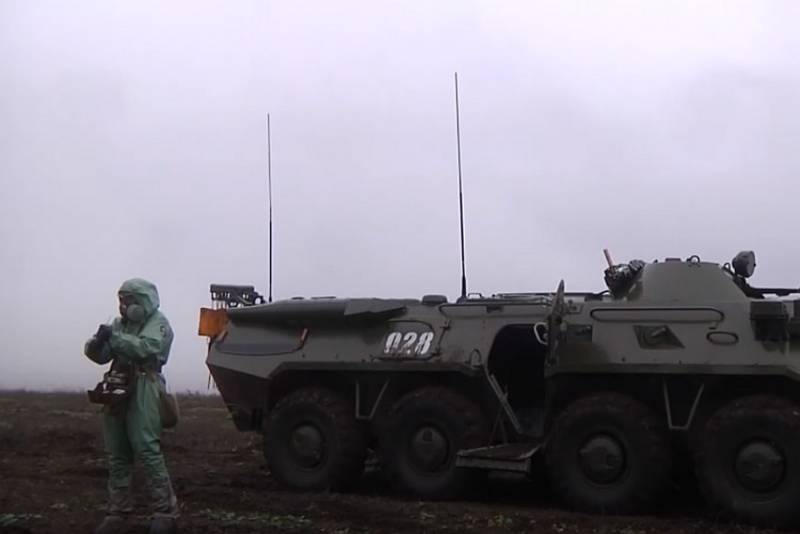 The Ministry of Defense has deployed a new Radiation, Chemical and Biological Defense (RHBZ) regiment as part of the Southern Military District. According to the military department, a new separate regiment became part of the combined arms army of the Southern Military District.
The press service of the district clarified that the new regiment was formed for the first time and is capable of performing the entire range of tasks assigned to it, for this it has all the necessary units. It is noted that the regiment is fully equipped with equipment and means. The regiment personnel will begin to carry out combat missions as intended in the summer.
The regiment's units are armed with reconnaissance chemical vehicles, automotive chemical laboratories, aerosol camouflage vehicles, special processing vehicles for weapons and equipment, as well as heavy flamethrower systems and infantry flamethrowers. Flamethrower systems are represented by TOS-1A "Solntsepek", and infantry flamethrowers - by modernized rocket-propelled flamethrowers "Shmel-M".
According to the plans of the Ministry of Defense, all heavy flamethrower systems TOS-1 "Buratino" and TOS-1A "Solntsepek" in the subdivisions of the RChBZ of the Southern Military District will in the future be replaced with a new flamethrower system TOS-2 "Tosochka" on a wheel drive. It is planned to do this by 2025. At the same time, "Buratino" and "Solntsepek" will not be removed from service, but will undergo modernization and remain in service in areas where the use of wheeled vehicles is impractical.