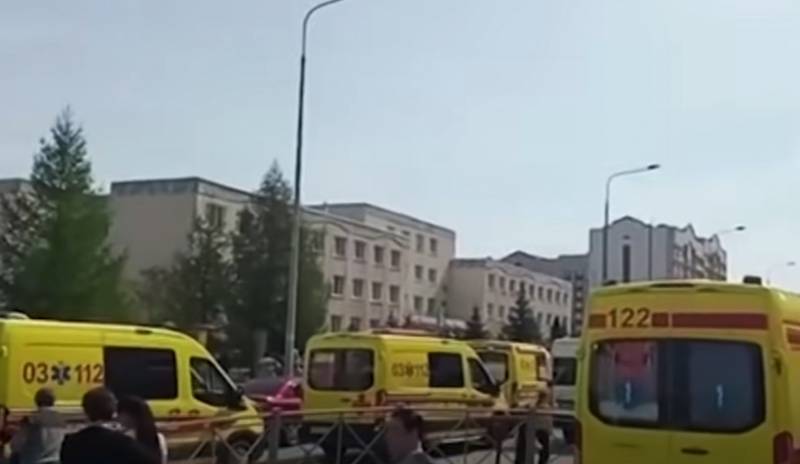 There are some details from the life of the terrorist Ilnaz Galyaviev, who the day before carried out an attack on the 175th gymnasium in the city of Kazan. Recall that Galyaviev, having published a post on Telegram that he "is God" and that "everyone should recognize themselves as his slaves", armed with a semi-automatic pump-action gun and improvised explosive devices, went to an educational institution, which he himself graduated from, and perpetrated there reprisal.
At the moment, according to official data, 9 people have died, seven of whom are students of the 8th grade of school No. 175. More than three dozen people were injured and injured.
The terrorist himself, 8 minutes after the shooting began at the school, left the building and surrendered to the police. This fact alone testifies to the fact that Galyaviev acted deliberately and it is hardly possible to speak of a mental disorder at the time of the crime.
The journalists managed to contact Galyaviev's father. The man said that he was amazed at the information that his son was the terrorist who started the shooting at the school. Galyaviev Sr. confirmed that his son was in his 4th year at a local college at the University of Management.
The family of the Kazan terrorist says that he was calm and did not show aggression. At the same time, his detachment from others is emphasized. It is noted that he did not have special interests, unlike his brother, who attended circles and sections. Galyaviev's relatives say they are shocked by the way he behaved, including during interrogation. It is noted that "from him in general they have never heard a conversation in a raised voice, especially hysterics."
It is added that the Galyaviev family did not experience material difficulties.
From the statement of relatives:
Maybe it's influence from a computer or from some sect. But this is some other person, not our Ilnaz.
Against this background, the following fact attracts attention: Galyaviev walked to the school, not hiding from anyone and carrying in his hands the very carbine from which he later shot (he bought it not in Kazan, but Yoshkar-Ola). While driving, he met several people who did not react at all to a man moving in a black cloak and mask along the street with
weapons
in hand. Fear or banal indifference? But tell any of the passers-by to the police about, to put it mildly, a strange man with a carbine, the tragedy could have been avoided.
After the terrorist attack in Kazan, discussions began again about toughening the rules for registering weapons, or about strengthening security in schools and kindergartens. The main question is, why are these conversations going on only after such tragic events? Why are the appropriate measures not taken regardless of the terrorist attacks?