The Israeli military and police representatives say that rocket attacks continue from the territory of the Gaza Strip. Some time ago, according to Israeli law enforcement officials, several rockets were fired at the Israeli city of Ashkelon. It is located north of Gaza.
According to the latest information, at least two direct missile hits have been recorded in residential areas of Ashkelon. Residential buildings and cars were reportedly damaged by the explosions.
The IDF command, through the press service, appealed to the residents of Israeli settlements located near the border with the Gaza Strip. In the appeal, the Israelis are urged not to leave the bomb shelters until further notice from the authorities. It is known that some residents of Ashkelon are hiding from rocket attacks in the basements of their houses.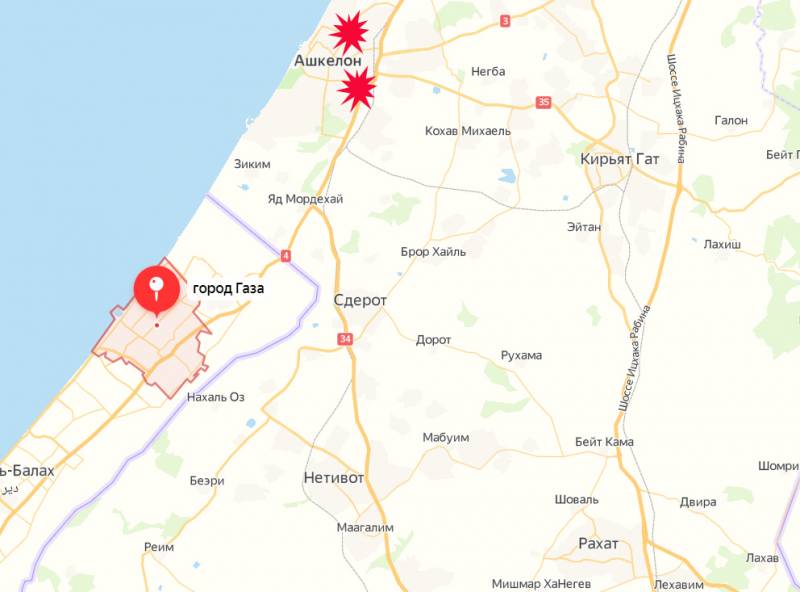 Direct hits from missiles fired from the Gaza Strip indicate that Israeli missile defense systems still cannot act as a 100% guarantee of protection. The same "Iron Dome", which is a fairly reliable missile defense system, allows Palestinian missiles to pass through. The main reason is simple - Hamas is using dozens of missiles against Israel. The Israeli missile defense system is simply not able to intercept all the released ammunition.
There are reports from Ashkelon that at least two people were killed in the latest missile attack. This is an elderly woman and her guardian, who were unable to hide in a bomb shelter in time. The rocket exploded right outside the house in which these people were.
Against this background, it became known about the statement of Israeli Prime Minister Benjamin Netanyahu. According to him, Israel is forced to increase the number of attacks on the Gaza Strip due to the incessant rocket attacks. The prime minister discussed the current situation with Defense Minister Benny Gantz and heads of other law enforcement agencies.
Netanyahu:
We have already inflicted dozens of strikes on Gaza, destroying several leaders of the armed wing of Hamas and groups affiliated with this structure. We are ready to step up military activity and increase the number and frequency of attacks.
Meanwhile, experts do not believe that such a decision in this situation can lead to de-escalation.