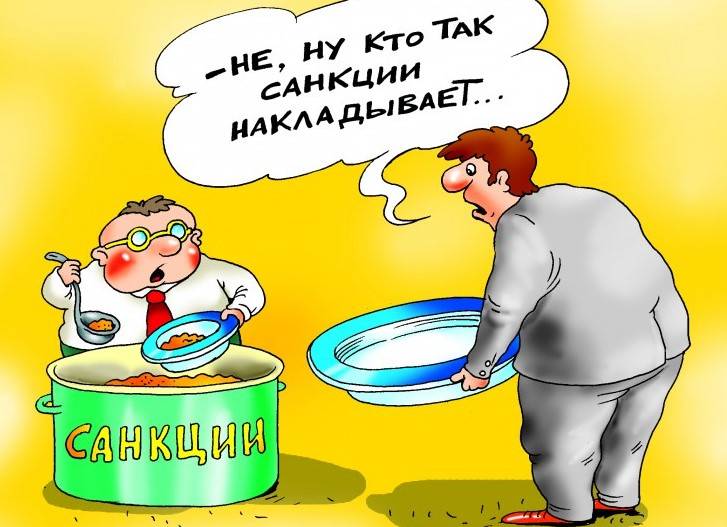 I do not see the enemy
In an economic war, perhaps the main thing is to identify a real enemy. Yes, Russia, as non-communist for three decades now, remains a geopolitical and ideological opponent of the West. But economically and financially, she has integrated too much with him since then.
So much so that real military action loses all meaning. If in ordinary wars there may still be some benefits for someone, then everyone loses from the rupture of economic ties. And moreover at once. That is why, and not at all because the international payment system SWIFT is, in fact, a private shop, disconnecting Russia from it is very beneficial for few people.
However, the most negative scenario still cannot be ruled out. It is no coincidence that the representative of the Russian Foreign Ministry, Maria Zakharova, emphasized that the government is preparing for a possible disconnection of Russia from the international payment system SWIFT.
Is it worth it to overestimate the PACE declarations, which require not only to disconnect Russia from the SWIFT payment system, but also to freeze the European assets of representatives of the Russian authorities and oligarchs? Or such a terrible thing - to prohibit them from entering the territory of the EU countries.
And the most radical measure is to stop the import of oil and gas from the Russian Federation. It seems that on the eve of global warming, someone really wants to freeze? But Russia, disconnected from SWIFT, can, after all, take advantage of such a nuance - referring to force majeure, refuse to pay its obligations to foreign creditors.
Scarecrows on the topic of "turning off Russia" have been in use for a very long time - not even since the Crimean spring, but somewhere since the first "orange revolution" in Ukraine and the compulsion to peace in Georgia. However, then the SWIFT system was not yet such a powerful monopolist as it is now.
Why didn't anyone get scared
But then the SWIFT system did not have any real alternatives, which have recently been growing like mushrooms. Even the countries that quite realistically "unfastened" from SWIFT - North Korea and Iran - are provided with the means of payment, although not without the help of China and India.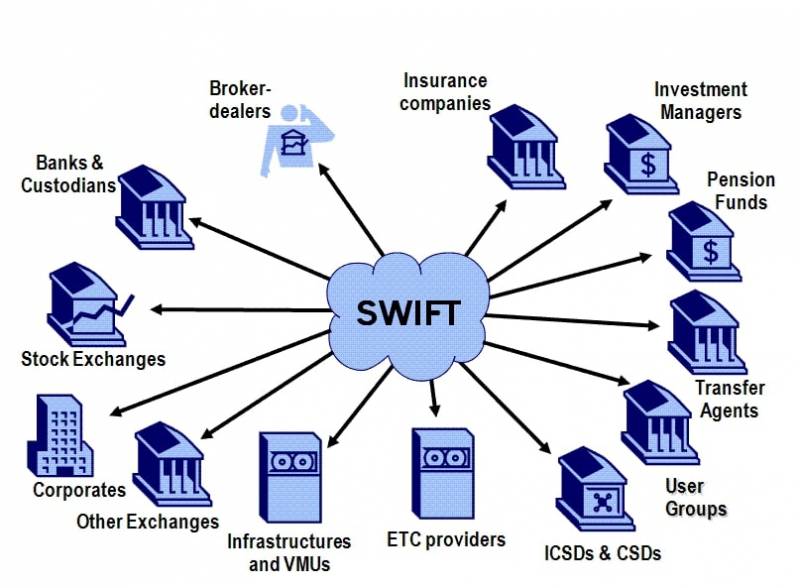 Yes, and without the Europeans, as in the case of Iran, it also could not do. The payback for SWIFT for Iran and the DPRK was very tough. The economy has sagged, the standard of living has fallen, which is already low. But these countries are, in fact, self-sufficient to the envy, like the USSR behind the Iron Curtain. But what about Russia?
It's very difficult for her to do without international settlements. It seems to be ... But Russia has already managed to put a straw in the event of a divorce from SWIFT, although for some reason neither the business media nor representatives of the economic bloc in all branches of the federal government trumpet this.
Few people know that already in 2016, the Financial Messaging System (SPFS) was tested in Russia - an absolutely viable alternative to SWIFT. It has even been exploited - for almost five years now, albeit in a sparing mode. And she does not raise objections to any of the potential partners. It's just that as long as there is access to SWIFT, no one is in a hurry.
By the way, Russia managed to launch its own Mir system (under the threat of being cut off from Visa and Mastercard) in the same way. Yes, it failed for a long time, annoying users, but now it is quite competitive, helping, among other things, to do without full-fledged banking services for the same Crimeans. And along with them - and 500 thousand Russian citizens in Donbass.
Nothing personal, just PR
Today, quite convenient, although few recognized methods and means for carrying out and registering financial settlements, in fact, can simply provide at least the Internet.
After all, cryptocurrencies can be considered as an alternative. It is well known that they (after a short rollback) have risen in price for several years just at an insane pace. And they rise in price precisely because of the opposition to various kinds of monopoly. Including the SWIFT monopoly.
But at this stage in the development of our relations with the United States and the EU, the most important thing is, apparently, image games, but what is there to be ashamed of - also wars. And it only seems that the image of Russia as a potential aggressor and some new "evil empire" has already been formed.
The whole point here is only in one thing - in the primitive extraction of unplanned profits. Nord Stream 2? Yes, you build as much as you like, just not at our expense, but we will interfere, but also use it, because it is profitable. Exports of oil and grain - again, they are much more needed by the seller, that is, Russia, than by overly fed buyers.
How Russia can smooth out the negative, launched from the West, first of all, into neighboring countries "offended by us" is a big question. The usual bet on the Russian diaspora and on those who have not yet lost their memory is not enough. Games with SWIFT are also in many ways fashion-oriented. Because the audience of the XNUMXst century is too advanced.
It is not for nothing that US Secretary of State Anthony Blinken (pictured) was so careful in his comments on the idea of ​​disconnecting Russia from SWIFT. And he insisted that it was a private company, and even with a long-term impeccable reputation:
"I don't want to go into hypothetical questions about what we can do in the future. Let me just say that we will consider all reasonable options when it comes to trying to contain aggression. "
Blinken even had to admit that the United States would prefer to have more stable and predictable relations with Russia, however, in the end, everything depends on "the actions or lack of actions of the Russian Federation." According to him, if Russia "continues to take reckless or aggressive actions," the United States will respond, because such steps cannot go unpunished.
Are we going the other way?
Russia, having created Mir and SPFS, almost completely protected the domestic financial market - there is no doubt about that. Likewise, one should not be much afraid of new measures on Russian debt, although borrowing through intermediaries will cost a little more.
However, loans abroad are still usually more profitable than domestic ones. And just leaving the debt market is not profitable for us. The most serious difficulties await (in case of disconnection from SWIFT) Russian banks, although it is hardly worth worrying about them.
It must be remembered that our banking system operates in very specific conditions, when the largest government shares are very large, and the smaller ones work with foreign partners from time to time. Although a short-term shock cannot be ruled out in any case, as well as a longer-term rollback of the markets, and another fall in the national currency rate.
Well, the foreign banks present in Russia, or rather their branches and branches, simply work according to Russian rules, that is, with a much higher rate of return. At the same time, we have powerful financial support from the head structure behind our backs.
The common public may also have difficulties - for example, when paying for purchases or services abroad. The same online store or the "booking" known to all tourists - they cannot do without SWIFT. Although for the sake of the capacious Russian market, you can think of something else.
A business focused on export-import will look for (and most likely have already found for a long time) ways and possibilities for settlements in ways other than through SWIFT. Of course, there may be serious problems in obtaining export foreign exchange earnings for Russia - for gas, for oil, or for the products of the military-industrial complex.
But here, again, the question is only in the time for which the mediators will be found. Competition between them will very quickly reduce all problems to a reasonable minimum of financial losses. The experience of many years of struggle against sanctions has shown that this is exactly how it will be, even under the most negative scenarios.
Let you get out
Experts are well aware that several banks from China, Turkey, Japan and European countries have already connected to the SPFS. The system is not used very actively, but quite successfully. Force majeure can stimulate dramatic growth in the development of alternative systems.
Banking experts note that the SPFS is not a semblance of a fire-prevention system in case of a financial war, but an analogue of a certain backup of the same SWIFT. It (SWIFT) can also be knocked out by the same hackers, and it is not at all necessary - the Russians.
Russia has almost squeezed out (and with the commissioning of Nord Stream 2, it will finally squeeze out) from the energy market such expensive and poorly predictable intermediaries as Ukraine or Poland, as well as the Baltic countries. Something similar may follow if we disconnect from SWIFT, although not immediately.
By striking Russia in such an extraordinary way, the United States will also strike Europe, which is very strongly integrated with Russia both economically and financially. Globalization, the interweaving of countries - this is the reality of the third millennium.
Therefore, the leaders of such an organization as SWIFT, I will repeat - private and with more than half a century
history
success, you should think very hard before clicking the "disable" button for the "Russia" folder. The advantage of such a client is not only the scale of transactions, but also the fact that there are not so many of them to be in great need of their prompt execution.