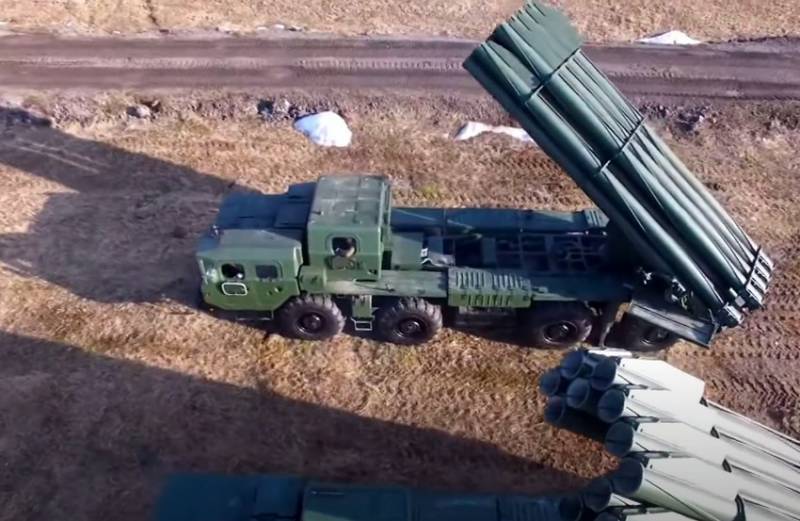 The Russian MLRS "Tornado-S" will become even more dangerous for the enemy, the complex will soon receive new missiles, which are already being developed.
According to
RIA News
, which refers to a source in the defense industry complex, a new high-precision guided missile with a combined homing head is being developed for the Tornado-S MLRS. The ammunition will receive a seeker with thermal imaging and television guidance channels, as well as an additional semi-active laser system. In the near future, the stage of bench tests of the seeker for the new ammunition will begin.
The new missile, as conceived by the developers, will provide all-weather and all-day destruction of sedentary and small targets. The range of destruction is not specified, but earlier the developers promised to increase it from 120 km to 200. Let's hope that the new missile with the seeker will fly exactly at this distance.
It should be noted that high-precision ammunition with an inertial-satellite guidance system has already been developed for the Tornado-S MLRS. Their tests were reported last August. The Ministry of Defense explained that the new missiles allow one salvo to hit several targets at once. Before the launch, the necessary data for each ammunition is entered into the system separately (if necessary) and after the launch, the missiles hit each of their targets, having the ability to turn around after the launch. However, they do not have a seeker.
MLRS "Tornado-S" was developed as a replacement for MLRS "Smerch", it has 12 guides for 300-mm missiles. The installation allows you to hit targets to the entire tactical depth of the enemy's battle formations. MLRS tests took place in 2015. The Ministry of Defense announced plans for a complete rearmament with new MLRS, the priority is the Western Military District.