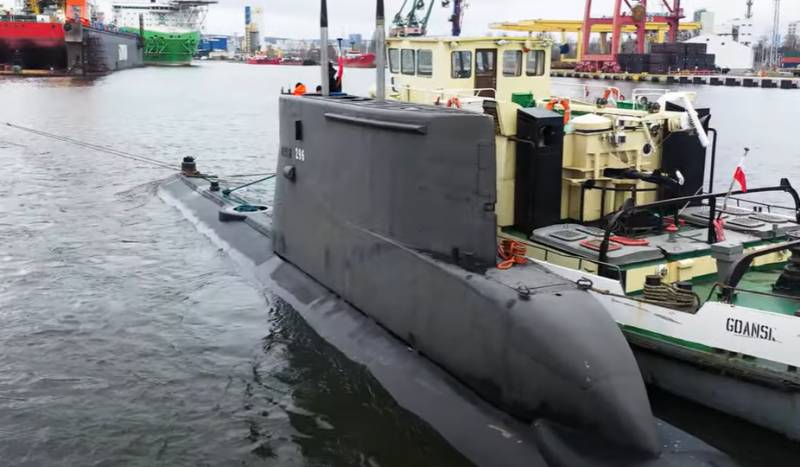 In Poland, the process of decommissioning Cobben-class submarines is nearing completion. Today it is reported that two tugboats Rhino G-01 and Rhino G-02 have towed the ORP Bielik submarine belonging to this class from the Gdansk shipyard to the port of Gdynia.
It is reported that the ORP Bielik submarine is likely to be cut for scrap in Gdynia.
The final withdrawal of submarines ORP Bielik and ORP Sęp of the Kobben class from the Polish naval forces is carried out on the basis of an agreement dated February 16 this year. The agreement prescribes the allocation of approximately 1 million zlotys (19,6 million rubles) for the "decontamination" of submarines. This term is used by the Polish media.
Sunlight 2X38ST10A batteries were removed from submarines, cooling systems and power consumption control systems were dismantled.
At the shipyard, work was carried out to turn off automatic fire extinguishing systems, empty oxygen cylinders, dismantle the on-board water supply system, internal lighting, etc.
Polish columnist Andrzej Nitka:
The moment of lifting the flag on the last Cobben class submarines of the Polish Navy is approaching inexorably. Their corps will be transferred to the Military Property Agency.
For your information:
The Kobben class submarines are actually an upgraded version of the German Type 205 submarines.
These submarines were originally built for the Norwegian Navy. Then some of them were transferred to Poland. ORP Bielik - Svenner submarine built in 1967. ORP Sęp - Skolpen submarine built in 1966. They were in the Polish Navy from 2002-2003.