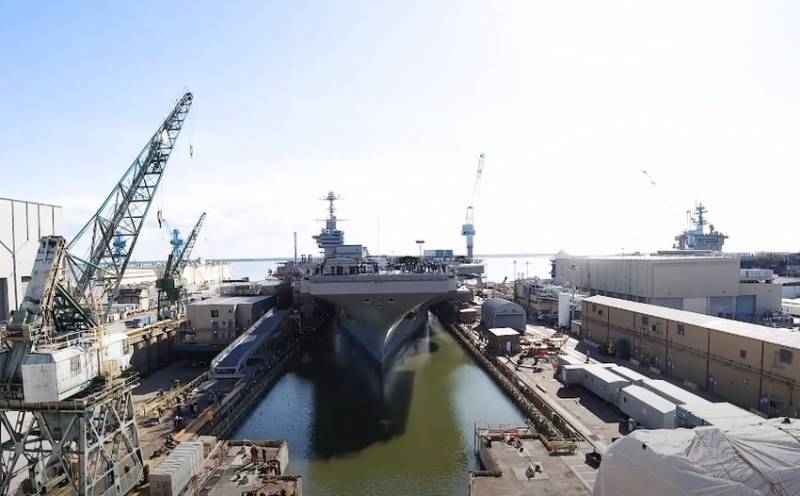 The US Navy is permanently deprived of one of its aircraft carriers. According to Naval News, the USS "John C. Stennis" (CVN-74) nuclear-powered aircraft carrier has undergone major overhaul and modernization.
The aircraft carrier has already arrived at the Huntington Ingalls Industries (HII) shipyard in Newport News for the next four years. This is the deadline set by the US Navy to carry out the necessary work on the ship, and there is really a lot planned there. According to the data provided by the shipyard, during the repair, the aircraft carrier will be completely cleaned and re-painted the hull, recharged nuclear reactors, and there are two of them on the ship - of the Westinghouse A4W type, propeller shafts and propellers will be repaired, and most ship systems will be updated or replaced.
Thus, the aircraft carrier USS "John C. Stennis" (CVN-74) is extended its service life by another 25 years.
The ship itself is certainly not new, but "well-preserved", is the seventh in a series of 10 Nimitz-class aircraft carriers. It was laid down on March 13, 1991, and entered the US Navy on December 9, 1995. The home port is Kitsap Base, Bremerton, Washington.
Displacement 103900 tons. Maximum length - 332,8 meters, maximum width - 76,8 meters, draft 11,3 meters. Speed ​​30 knots. The cruising range is not limited. The crew is 3200 plus 2480 of the air wing. It can carry 90 aircraft and helicopters.