Having studied carefully and with passion the list of school literature recommended for reading, I was bewildered. Probably, it will surprise someone, but it coincides by 90% with the list that I had in the Soviet school.
It is unbelievable, but true: for 30 years of Russian reality, no children's literature has appeared in such volumes that one could talk about it seriously. An exclusively Soviet legacy, regrettable as it may seem.
All the same Tolstoy, Prishvin, Kuprin, Rybakov, Volkov, Nosov, Oseeva, Barto, Zakhoder and so on.
Why is it regrettable?
But because times and people were somewhat different than today. More precisely, completely different. That is why I was especially interested in the story "Timur and his team". Of course, besides her there is something to think about, but Gaidar's story is something. This is a story that initiated a whole movement. Unregistered, but no less effective.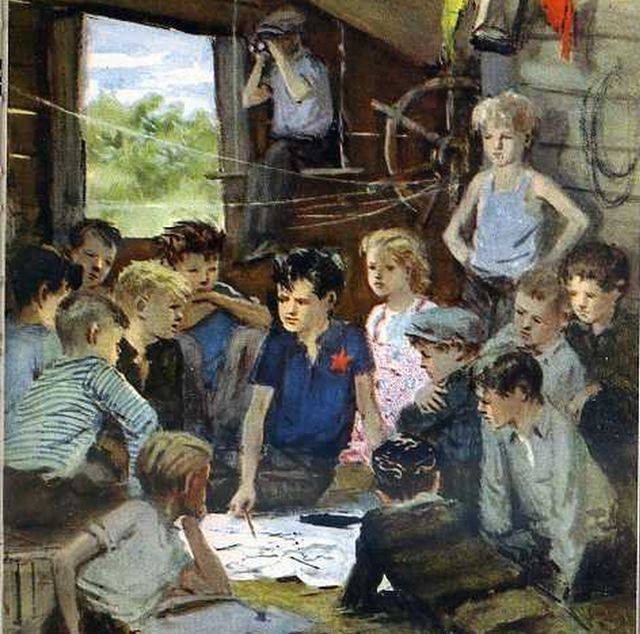 Judge for yourself, while you have not really begun to judge.
What did the guys from Timur Garayev's team do in the book? Providing targeted assistance to residents of the dacha village, whose relatives served in the Red Army and fighting hooligans.
On the one hand, our any government bodies welcome when any work is done instead of them. So if today such Timurovites suddenly showed up, on whom the duties of social workers could be hung, this would cause a storm of applause.
However, in Timur's team, there was an organization with a frankly pronounced hierarchy, a ladder of subordination, and so on. This, you know, is deeply thought-provoking. It is clear that today there is no need to carry water, chop wood ... Well, yes, chopping wood is still a topic of the process. At our rate of gasification, it will be relevant in a hundred years.
Another question is that where there is no gas today, there have been no candidates for the Timurovites since the day before yesterday.
However, today we have independence in organizations ... is not welcomed. Because today it seems for all the good, but tomorrow? And tomorrow there may be options. With a bias towards all sorts of foreign agents and other traitors. Freethinking, as practice shows, is one step away from dissent, and this has never been welcomed even in very democratic countries.
And literature is often the same guardian of the foundations, like everything else. Children's literature in particular. As in our case.
A beautiful story about beautiful children. But in our time, understanding what happened in the forties of the last century looks fantastic. And from the point of view of modern legislation, and in general, the horror is dark.
Have you found out whose relatives are serving in the army?
Article 137 of the Criminal Code of the Russian Federation. Privacy Violation
Climbed into the territory of the summer cottage without permission and piled firewood?
Article 330 of the Criminal Code of the Russian Federation. Arbitrariness. Not 139, but wow too.

Captured at night Kvakin's hooligans, who robbed the gardens and locked up in the booth until morning?
Article 127 of the Criminal Code of the Russian Federation. Unlawful imprisonment.

Moreover, in our times, and the resonance could be oh-ho-ho what. They are children, well, what if they took a dozen apples ... Although, yes, at the station. 330 (Arbitrariness) pulls, but no one canceled the hooligan (Article 213).
By the way, Zhenya is also good. Climbed into someone else's house and settled there on vacation.
Article 139 of the Criminal Code of the Russian Federation. Violation of the inviolability of the home.

Timur Garayev, in order to help Zhenya see his father, broke into the garage of his uncle Georgy Garayev, stole his motorcycle, and took Zhenya to Moscow, having neither a license, nor documents for a motorcycle, nor insurance.
Here from st. 158 of the Criminal Code of the Russian Federation to a bunch of articles of the APC and SDA.

And if you take the sequel, the story "Timur's Oath", there is generally a well-functioning organization operating there, with an "office" on the Aleksandrovs' site. Local residents can only file applications and complain to Timur about the lack of efficiency. Even the former hooligans were put in charge.
In general, Arkady Petrovich Gaidar wrote three stories about what real Soviet children should, in theory, strive for. Be proactive, be able to plan and calculate, nobly and (most importantly) selflessly help those who need this help.
Looks funny, doesn't it? Or is it still dangerous?
How much initiative and thinking young people are needed by today's state? They are needed, but only if they are controlled. But our state does not know how to do this. Captivate and control. That is why the dinosaurs became extinct, like the dinosaurs such as "Young Russia", "Ours", and the "Young Guard of United Russia" also turned into a budget-eating swamp ...
Of course, those who sit at the "top" of these movements, they have a perspective and a meaning of being. But ordinary members need to be attracted and enthralled with something. Modern Timurs do not quite succeed in this, but it does not work at all. There is no point in such movements, so they are dying out.
Arkady Gaidar, with the hands and words of the literary hero Timur Garayev, proposed the Deed. Honest, correct and noble. And completely devoid of any commercialism. Today everything that Timur's guys did looks absolutely ridiculous. In the world of information communities, terrorism and pandemics, this is fantastic.
Timur and his team had a place in a completely different country, with different foundations. With other people. Nowadays, they have no place in the heads of children, simply because everything drawn by Gaidar looks unreal.
And it's not just Gaidar. Nosov, Dragunsky, Oseeva - they painted a completely different world. A world in which everything is different. A world in which you can swim in the river without the sanction of the Federal Sanitary and Epidemiological Service. Where pioneers with counselors made fires without the installation documents of the Ministry of Emergency Situations and so on.
I'll tell you more. Do you know what needs to be observed so that children can swim in water bodies? Here is information taken from the Rospotrebnadzor website.
In organizations for the recreation of children and their recovery in the presence of a water body and the organization of bathing, the requirements of the legislation of the Russian Federation must be observed. The use of an open water body for bathing children is allowed only if there is a document confirming its compliance with sanitary rules that impose hygienic requirements for the protection of surface waters and (or) impose sanitary and epidemiological requirements for the protection of coastal waters from pollution in places of water use by the population.

In the organization of children's recreation and their recovery, the following is provided:
- availability of a sanitary and epidemiological conclusion for a water body intended for bathing;
- act of diving survey of the bottom of an open reservoir;
- a rescue post at the bathing site, including rescue equipment (lifebuoys, life jackets, support vests, Aleksandrov's ends, buoys for marking the boundaries of the beach water area, communication equipment, etc.), stands with information on safe behavior on the water, information about the water temperature , air, a diagram of the beach, depths and places where diving into the water is prohibited, towers or other structures that provide visual observation of the entire water area of ​​the beach, a flag with a red cross to indicate the location of a medical worker;
- the presence in the staff of a certified rescuer (s) or an agreement with the relevant organization; - - instructions and orders for employees on actions in cases of an emergency on the water and on the immediate transfer of information about an emergency to the territorial subdivision of the EMERCOM of Russia;
- instructions on the rules for bathing and dipping children;
- training logs;
- in the case of mass events at a water body, it is necessary to coordinate with local authorities and territorial subdivisions of the Ministry of Emergencies of Russia in accordance with the established procedure.
I don't want to quote about anti-terrorist and fire-prevention measures. And so everything is clear.
And the heroes of Nosov and Dragunsky just walked and swam, fished. Gathered mushrooms. Bonfires were burned. They baked potatoes in them, what the hell are kebabs? The potato, the same black one, with a charcoal crust, with salt from a pocket, dug out on the nearest collective farm field.
Remember the Soviets? Infused?
Well, how can we write in all these "Rosnadzors"?
No way. There is simply no place for them in that life, just as there is no place for Timur, Geika, Kolya and everyone else in modern life.
The question arises: why are there, to put it mildly, works that do not correspond to the time in the school curriculum? Moreover, who teach, to put it mildly, not quite according to the letter of the law?
The question, of course, is still ...
I asked it to a sensible person, an honored Teacher of Russia. The answer killed. You see, it turns out that in order to change something in the school curriculum for literature, one must have a remarkable character and separate parts of the body made of 440C steel, no less. Because no one is going to change anything.
Nonsense ensues. In literature lessons Timur and his team, Denis Korablev, Dinka, Lyonka and so on. And on the Internet you know what. And in the cinema "
Tanks
"," Zoya "," Devyatayev "and other obscenities.
Moral and ethical dissonance.
And what is most interesting, modern schoolchildren understand this perfectly. I confess that I just recently wrote an essay based on Timur and his team. They asked to help a 13-year-old lady, interfered with reading the covid, they were sick with the family for a long time and hard. I didn't have time, in short. And who, if not a Russian journalist of Soviet ferment, can help?
They wrote. 5/5. But in the process of writing there were a lot of questions, since we really went through "Timur" at an accelerated pace. Indeed, today, at the age of 13, it is not entirely clear how it is possible to get into someone else's house and stay there for the night. Even with the help of a dog. Well, everything else on the list, especially a motorcycle theft, even from a relative.
In general, the 13-year-old citizen of the Russian Federation had an opinion about the work as a frivolous fairy tale "Like about Denis Korablev." It is very difficult in our time to accept and understand the world in which people communicate using the telegraph. In which there are no mobile phones, the Internet, navigators and other modern conveniences.
And there is some kind of real fabulous impunity in actions. And from here there is a dissonance in the heads of children. And this is very bad, they perfectly understand that ... No, they do not want to deceive them. They just tell a beautiful tale about honest, correct and kind children, which has nothing to do with reality.
And the fabulousness of "Timur and his team", as well as other works of eighty years ago, can even play a cruel joke with the works.
Of course, I am sure (not really) that we will not see bonfires from books, as it was in some countries of advanced democracies (in fact, also not, the list is known), we usually did it easier and calmer. They will simply withdraw and banned.
And it will be very disappointing, but quite objectively. Why do we need fairy tales that confuse young people, try to instill in them qualities that are not that harmful, they are often dangerous in our time?
On the one hand, I really would not like to be a prophet, on the other, our president once again speaks about the need to fight the scribes
stories
and slanderers, and yet another libel appears on the screens, which has nothing to do with reality ...
Probably, the point here is which of the versions of history should be taken for the version that should remain unchanged. In one, the heroes of old books can still serve as an example for children. In the second, it is doubtful.