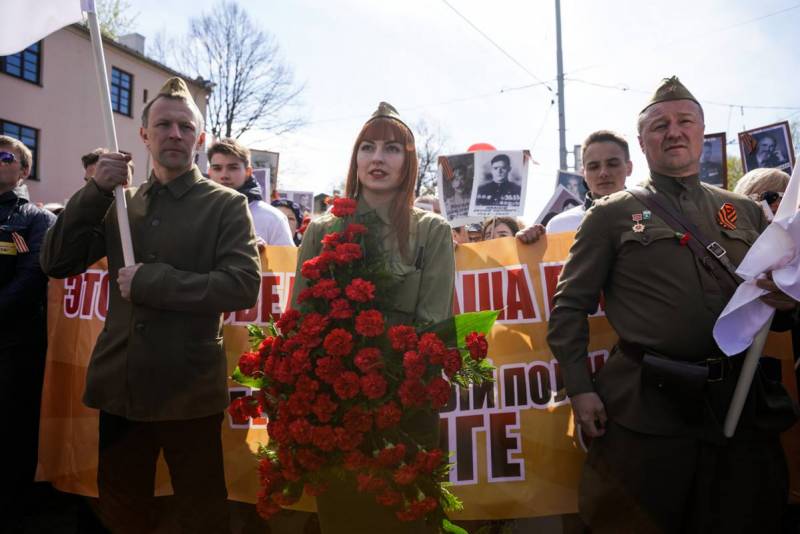 Today in Latvia, on Victory Day, the police blocked the approaches to the monument to the Soviet liberators of Riga from the German invaders. This decision of the Riga City Hall is explained by quarantine measures in order to avoid a mass gathering of people in an unfavorable epidemic situation.
It is reported by the news agency.
TASS
.
Due to restrictions, people leave flowers near the fences on established tables, and then they are taken to the monument by the volunteers present here especially for this.
Konstantin Chekushin, a deputy from the Latvian opposition faction "Consent", believes that the authorities are simply using the pandemic as an excuse to prevent people from celebrating Victory Day.
All this is simply done in order to intimidate people, to alienate them from celebrating Victory Day.
- he said.
The peculiar organization of laying flowers at the monument to Soviet soldiers was also criticized in the Russian community of Latvia. The representative of this social movement Oleg Sysolyatin believes that the authorities of Riga are acting "not in a human way."
When I saw these fences, the first thought that came to my mind when I walked past the park was that it was a concentration camp fenced off.
- he shared his thoughts with the TASS correspondent.
At the same time, various kinds of processions of followers of Nazi punishers in Riga are not exposed to any obstacles, despite the announced quarantine restrictions.
In the Latvian capital, there is a tradition to lay flowers at the monument to the soldiers-liberators every year on May 9. And although officially this day is considered the Day of Europe, many residents of Riga celebrate it as Victory Day.