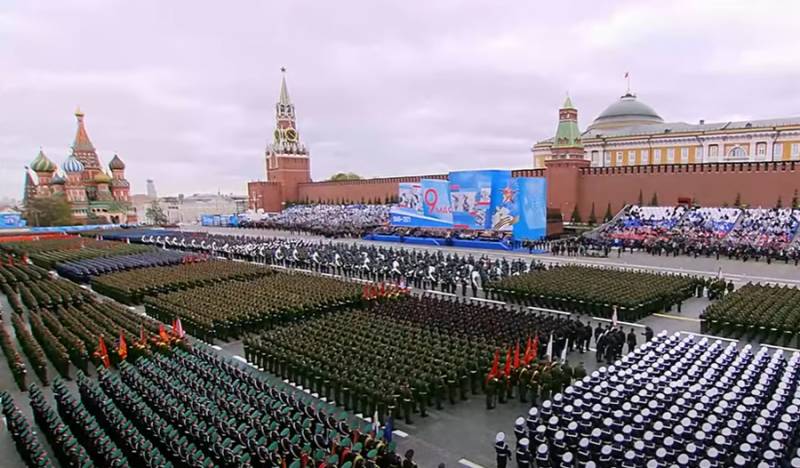 The foreign press reacts to the celebration of the 76th anniversary of Victory in the Great Patriotic War, which is taking place throughout Russia today. Recall that a military parade took place in Moscow, in which almost 200 units of various military equipment were involved, including
Tanks
, MLRS, self-propelled artillery, various kinds of missile systems and means of combat
aviation
.
The American information service Associated Press, talking about the celebration of Victory Day in Moscow, drew attention to the words of the Russian president that even 76 years after the end of the Great Patriotic War, Nazi ideology in some countries of the world is again "trying to put into service."
From material in the American media:
From the rostrum on Red Square, Vladimir Putin spoke about the persisting Nazi ideology, as well as about the unbeaten punishers and their followers.
American journalists noted that the Russian president drew some parallels between today and the one that preceded the great war. According to the President of the Russian Federation, then international treaties were also easily crossed out, statements of racial superiority were made, anti-Semitism and Russophobia were actively promoted.
In some foreign editions on May 9, talking about Russia, they decided, as they say, to "pull by the ears" the situation with Navalny. So, in "Reuters" said that the Kremlin really needs a military parade, since "Russia is entering the pre-election phase." It is alleged that by such measures the Kremlin allegedly "distracts attention from the human rights situation and specifically with Navalny." The Western Information Service writes that military parades were also held in Crimea, which, as the foreign author emphasizes, "was annexed by Russia."
Foreign observers, commenting on the parade in Moscow, say that "Putin is once again sending a signal to the world community that he is ready to use troops." At the same time, it is not specified, to use troops in which case "the Russian president is ready". And it is not specified for the simple reason that the West continues to believe that the Russian Federation cannot have its own interests.
At CGTN's European bureau, columnist Giulia Carbonaro writes literally the following:
Relations between the West and the Russian Federation are tense, and Putin is bringing thousands of soldiers and hundreds of pieces of equipment to Red Square
According to G.Carbonaro, President Putin associates the current friction between Russia and the Western world with Western Russophobia.