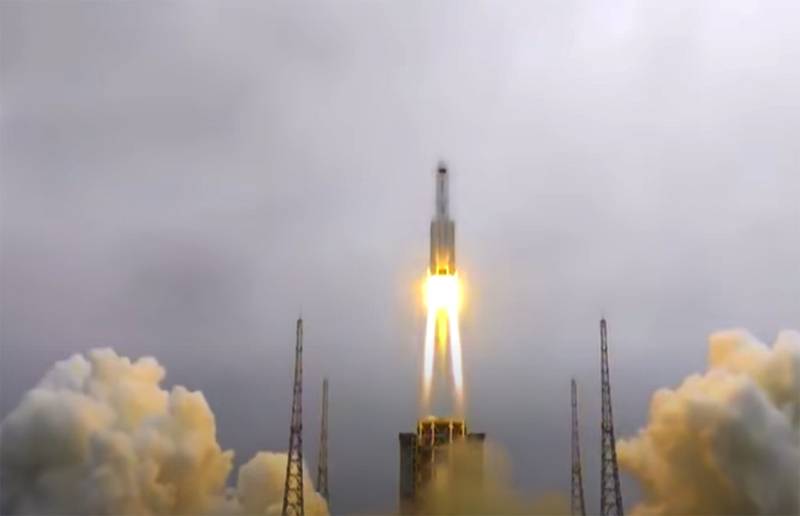 The bulk of the debris from the spent stage of the Changzheng-5B (CZ-5B) rocket belonging to the PRC burned up during its entry into the dense layers of the atmosphere over the Indian Ocean. The rest were in the water.
This is reported by sources citing China's manned flight program.
On May 9, at 10:24 am (local time), the debris of the Changzheng-5B launch vehicle re-entered the Earth's atmosphere.
- say the Chinese.
The time indicated by them corresponds to 5 hours 24 minutes Moscow time. The message also contains the exact geographic coordinates of the crash site.
Thus, the epic with the falling Chinese rocket, which until today has excited the whole world, fearing the fall of the remnants of the rocket in any densely populated area, is close to completion. Of course, if the message from the PRC is confirmed by other sources.
Shortly before that, Wang Wenbin, a spokesman for the Chinese Ministry of Foreign Affairs, reassured the world community by revealing the design features of the falling missile. He said that this complex technical device is designed so that when it enters the atmosphere, it is easily destroyed, and most of its debris burned up before reaching the surface of the Earth. Thus, the fall of the rocket does not pose a particular danger. Earlier, the Pentagon stated that the danger is great, since the fall is uncontrollable.
On April 29, the Changzheng-5B launch vehicle launched the main module of the Chinese space station into orbit.