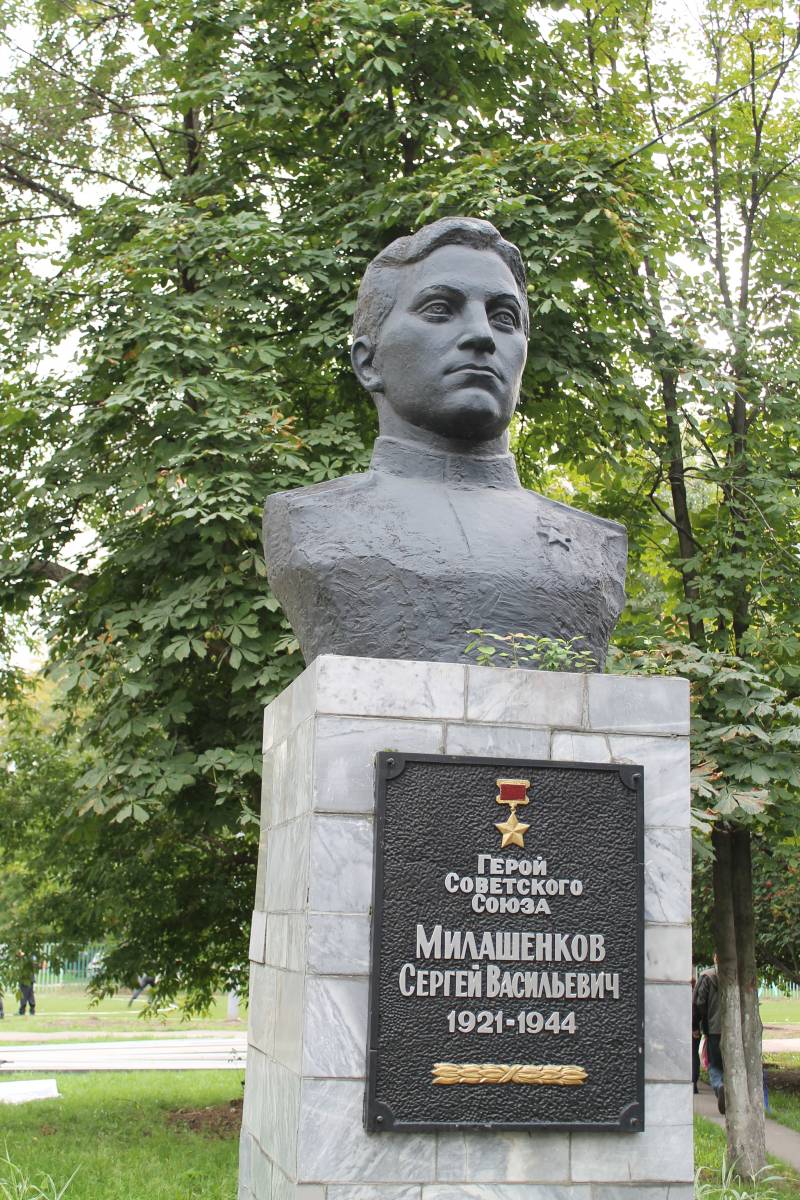 Wall newspaper
When we were preparing a wall newspaper about the feat of Hero of the Soviet Union Sergei Vasilyevich Milashenkov, it turned out that there was very little information about him.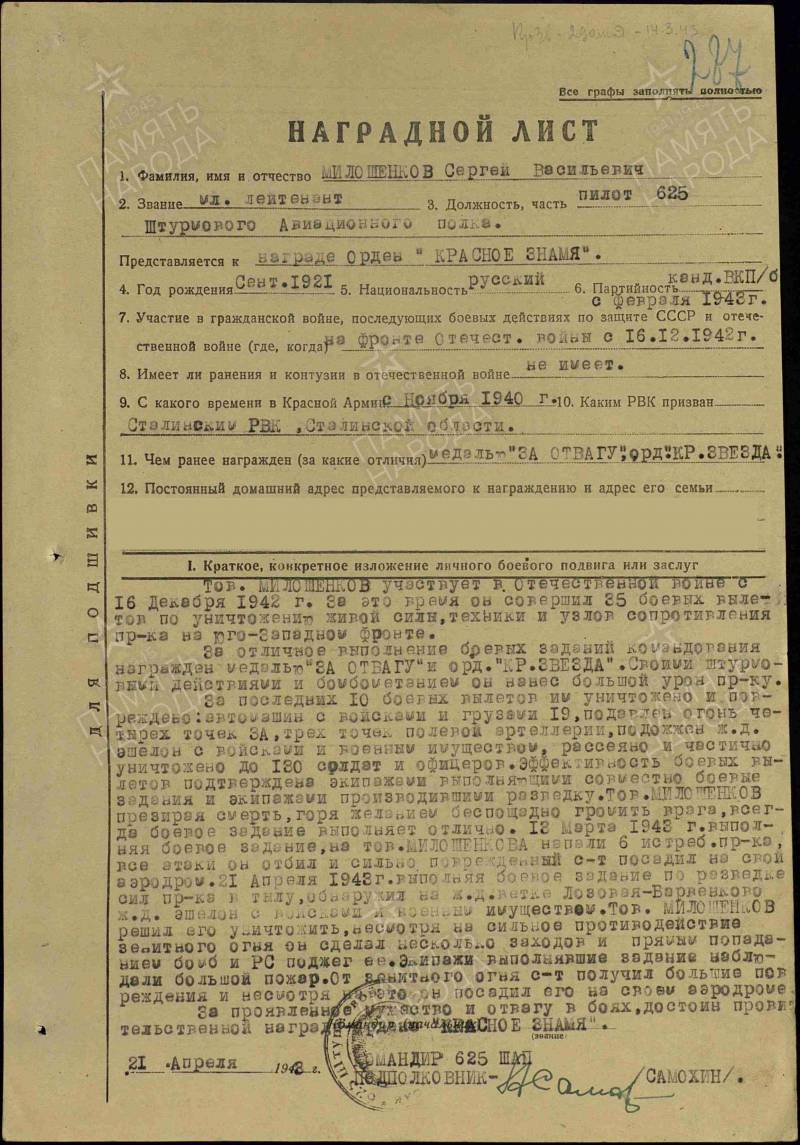 Several short articles, scanty lines of award sheets, orders, summaries ...
Born in 1921 in a small village between Smolensk and Vyazma. Already at a smart age, he moved with his mother to Moscow. He graduated from the seven-year school, was engaged in the flying club. In 1940 he was drafted into the army, sent to a pilot school, from December 1942 at the front. In the first battles - the medal "For Courage", then more orders for exemplary performance of combat missions and courage. And now - a burning Il-2, directed into the midst of Hitler's troops and equipment. And not a word about what kind of person he was - Sergei Milashenkov? How did he live, what did he dream about and talk with friends?
And I wanted to understand how a Hero grew out of a village boy? What was the XNUMX-year-old guy thinking when he smelled burning in the cockpit and saw flames?
Surely, it was not something like: "Now I will accomplish a feat!" And it is absolutely certain: he had no idea that it was necessary to jump with a parachute - he had already been in captivity a year before. I got out only thanks to an incredible coincidence of circumstances, willpower and the desire to smash the Nazis again and again.
Of course, any pilot, and even more so - an attack aircraft pilot, has the ability to react with lightning speed to changes in the situation, making the only correct decision. But even such a person is unlikely to be able to simultaneously overcome the most ancient instinct inherent in all living things - the instinct of self-preservation.
This means that Sergei was already ready for self-sacrifice. And when and how is such readiness formed?
Peasant life is hard. And the parents of village children do not have to explain to them the meaning of the word "must". Everything is simpler: do your legs walk? Do they wear hands? Then get involved in the work, there will be enough for everyone. In addition, Sergei's childhood fell on the hardest times. The Civil War has just died down, devastation, poverty, hunger are all around ...
However, life gradually returned to normal. Dams and factories were erected, tractors took to the fields, cities grew, houses, schools and hospitals were built. Smiles appeared on the faces of people - they enjoyed life and dreamed of a happy future. And they didn't just dream, they built it! By yourself, by your own hands! And this in itself is happiness.
Only one thing darkened this sunny picture. The threat of a new war. By the end of the 30s, there was no longer any doubt about this: there would be war. In the east, the Japanese are constantly organizing provocations, our soldiers have already died near Lake Khasan. In the west, England does not abandon its age-old plans: by any means to restrain the development of Russia, weaken it and seize it. And the British are acting very cunningly - they want to do everything with someone else's hands, inciting its neighbors to the USSR. Hitler has already captured half of Europe, and the same England is trying to turn his aspirations to the east.
Feat
The Soviet country had no choice: it had to prepare for the coming war. The army was strengthened, guns were released and
Tanks
... An efficient military was created almost from scratch.
aviation
... In general, aviators have become the main heroes of the country. Everyone knew the names of Valery Chkalov, Vladimir Kokkinaki, Mikhail Gromov, Marina Raskova, Valentina Grizodubova, it was the pride of the people and an example to follow.
On the initiative of Marina Raskova, flying clubs were created throughout the country. Young people enrolled en masse in DOSAAF schools and Voroshilov riflemen circles. Young men and women learned to defend their homeland, and their readiness to fight only grew stronger day by day.
The songs of the Civil War sounded in a new way:
Lead, Budyonny, brave us into battle!
Let the thunder rumble
Let the fire go, fire all around.
We are all selfless heroes
And our whole life is a struggle!
People were confident that any enemy who encroached on our borders would receive a worthy rebuff.
We do not want any land,
But we won't give up our tip!
But, no matter how prepared for the war, it still began suddenly. And it went completely different from the way it was sung in heroic songs.
From the first days of the war, it became extremely clear: a strong and insidious enemy had come. He came to kill. To kill and enslave. Point.
A bold black cross was put on all dreams of a bright, happy future. In the form of a swastika.
And the whole people rose to fight the enemy. In Russia it has always been like this - if trouble threatens, all strife and grievances are forgotten, the people unite into a single formidable force, rising to defend their native land:
And we promised to die,
And they kept the oath of allegiance!
To the front! Elderly people assured their superiors that there would be someone to stand at the bench, and they had to beat the fascists! The boys attributed to themselves a year or two and fled to the military registration and enlistment offices.
In the film "Officers" there is a scene when Masha found Yegor's mother:
- Lyubov Andreevna! I graduated from the school of radio operators. I have to go to the front!

- Masha! But how ... What about the son ?! Why don't you leave him with your mother?

- My mother was hanged by the Germans ...
Now added to the willingness to fight was a personal hatred of the enemy.
Yesterday's boys and girls, already in their first battle, went with the determination to give their lives for the Motherland, for relatives and friends, for everything that was kind and bright in life, for the future of descendants.
But let death in the fire, in the smoke
The soldier will not be afraid,
And what is due to whom -
Let everyone do it.
It's time, it's time,
Let's go, friends, let's go!
For everything we lived yesterday
For everything that we are waiting for tomorrow!
And there were enough examples to follow. Not only from newspaper articles and reports of the Soviet Information Bureau about the exploits of Gastello, Matrosov and tens and hundreds of the same selfless fighters. It was right before my eyes, next to everyone, at the distance of a handshake, a look, a sigh.
"I don't know what deeds we will accomplish, but this is what this girl ... in the war ..."
This is the phrase of Romeo from the movie "Only" old men "go to battle". A lump in my throat ...
All this, taken together, gave birth to a whole generation of Heroes. Soviet people were internally ready for a heroic deed. And not just ready - he did it! If not in battle, then in the operating room of a front-line hospital, at a factory machine, on a collective farm field, in a school building miraculously preserved after the bombing ...
And from such great and small feats, one huge unprecedented feat of the Soviet people in the Great Patriotic War was formed.
So what was Sergei Milashenkov thinking about in those brief moments between life and eternity?
Perhaps about the same as our contemporary Hero of Russia Roman Filipov, the same pilot of the downed Su-25 attack aircraft, who blew himself up with a grenade surrounded by thugs?
Or maybe the words sounded in Sergei's thoughts, which were then repeated more than once in the film about the "old people":
Guys! Will live!!!
These are words addressed to us, descendants. They sound like a mandate - to go from source to result and arrange life in such a way that there is enough happiness for everyone. So that,
Let's go, friends, let's go!
PS
I am finishing 6th grade, and this text is an extracurricular school essay. My father suggested trying to publish it. He said that school grades are one thing, but the opinion of people who, firstly, know well
history
, secondly, the word "war" is perceived not as a history, but as a part of their biography - this is completely different. And there are such people on the "Military Review". And if this opus is considered worthy of publication, then we can hope for some kind words from these people - they will tell you what to read, what to learn, and in general, how to love the Motherland. And if I'm really lucky, and some troll appears in the comments, then I'll also get some life experience in addition.
I look forward to both.