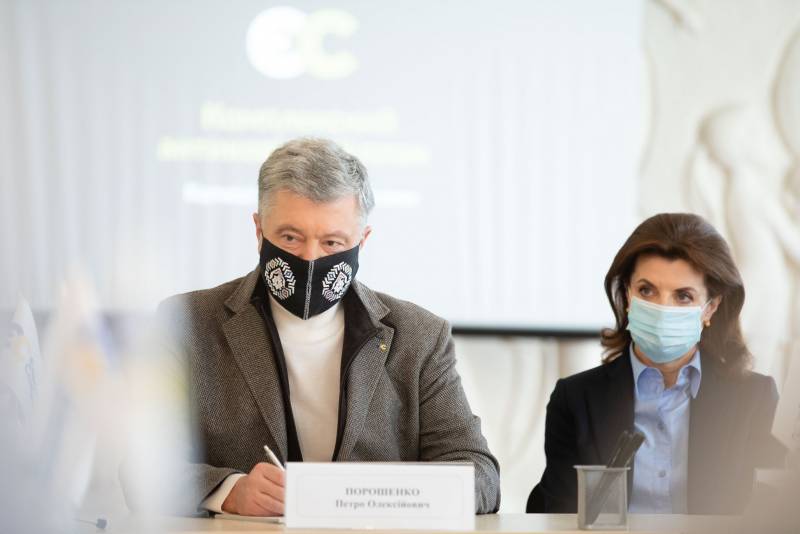 Today, May 8, is the Day of Remembrance and Reconciliation in Ukraine. In fact, this is a substitution, a belittling of the importance of Victory Day (May 9), which was deprived of millions of Ukrainians, whose grandfathers and great-grandfathers beat the Nazi invaders in the Red Army. With whom and with what has present-day Ukraine reconciled? With the Nazis? ..
On the occasion of the new "holiday", which has been celebrated in Ukraine since relatively recently, ex-President Petro Poroshenko, who today heads the PES party, the European Solidarity Party, spoke.
Poroshenko published his appeal to the Ukrainian people on Facebook. Not without mentioning Russian President Vladimir Putin.
According to Poroshenko, "the Ukrainians in 1939, together with the Poles, were the first to feel the consequences of the collusion of totalitarian regimes."
Of
treatment
Mr. Poroshenko:
The communist and Nazi regimes ignited the flames of World War II. Hitler and Stalin are the same berry field.
According to the head of the PES party, it was not for nothing that the Ukrainian Verkhovna Rada adopted a law that equates communist and Nazi ideology. At the same time, Poroshenko remembered the Holocaust, saying that the pain from "these losses does not subside in the souls of Ukrainians."
Apparently, Mr. Poroshenko seriously fears that socialist forces may come to power in Ukraine, which will clarify the nature of his multi-billion dollar fortune with further conclusions on this score. That is why everything that concerns socialism and communism is convenient for Poroshenko to be criminalized, "equal to Nazism."
Poroshenko on Facebook:
"Never again" - this is the slogan we celebrate today as the Day of Remembrance and Reconciliation. After all, it was the goal of preventing a new war in Europe that gave birth to the European Union, to which we are now striving. Let the inextinguishable human memory of the colossal multimillion-dollar victims of the Second World War, of thousands before the foundation of destroyed cities and tens of thousands of burned down villages warn the world against a repetition of this terrible catastrophe.
Poroshenko ended his appeal with words that once again give reason to think about the state of mental health of those who are in the Ukrainian power circles of our time:
Putin is kaput! Glory to Ukraine!
In fact, Poroshenko once again used the slogan, which at one time was characteristic of the accomplices of Nazi criminals in Ukraine.