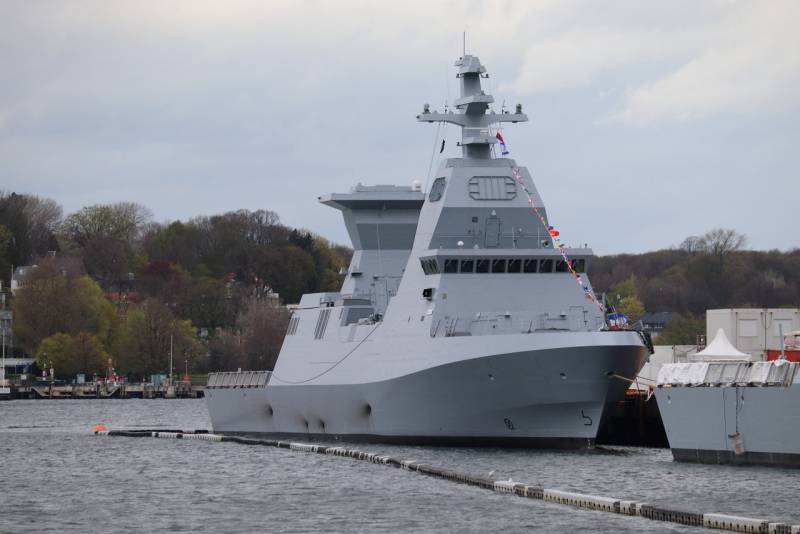 The Israeli Navy received the second corvette of the Saar 6 project. The ceremony of handing over the ship and raising the Israeli flag took place on May 4, 2021 at the Kieler Werft TKMS shipyard in Kiel, Germany.
Thus, Israel received the second out of four corvette ordered under an intergovernmental agreement concluded in 2015. According to the agreement, Germany builds only the ship itself, and Israel installs weapons and electronic equipment independently on its territory.
The entry of all four corvettes into the Israeli Navy, after being fully equipped, should take place in 2021-2022, but most likely, the dates will be shifted to the right due to additional equipment and necessary tests.
Corsets of the Saar 6 project were developed on the basis of the German project MEKO A100 (and variations for the German Navy of the K130 project). The total displacement of the Saar 6 Corvette Project is in 1900 tons, the ship's length is 92 m, the width is 13,5 m and the draft is more than 4 m. The crew is about 70 people.
According to open data, the corvette's anti-aircraft and anti-missile weapons include a 32-charge medium and long-range air defense system Barak 8 and two 40-charge launchers of the C-Dome tactical missile defense system (the naval version of the Iron Dome).
In addition, the ships will be armed with 16 PU PKR, 324-mm torpedo tubes for anti-submarine torpedoes Raytheon Mk 54 and helicopter Sikorsky SH-60 Seahawk. Artillery armament will be limited to two 25-mm Rafael Typhoon remote-controlled artillery mounts (with the possibility of using also Rafael Spike-ER missiles from these mounts).