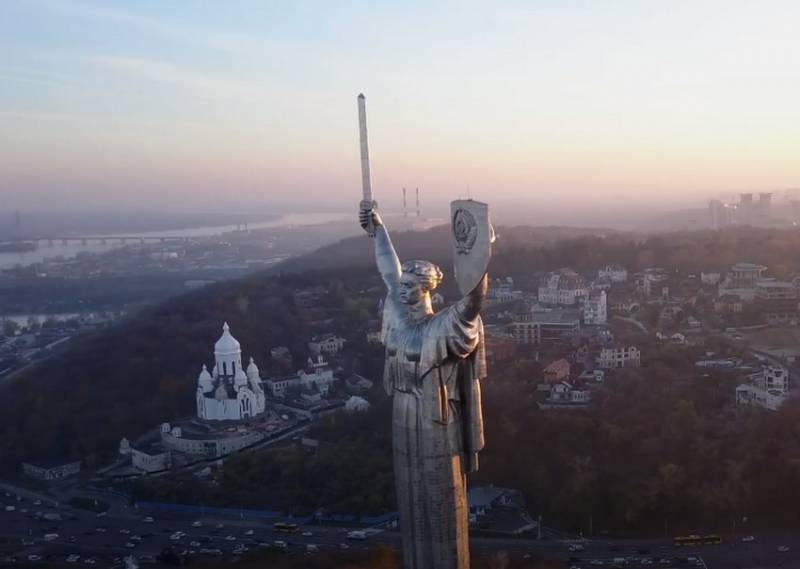 The Motherland Monument, located on the banks of the Dnieper in Kiev, haunts post-Maid Ukrainian politicians. The thing is that the coat of arms of the USSR is still on the shield of the sculpture, and the "decommunization" in the country has not yet been completed.
Kiev has once again announced its intention to remove the USSR coat of arms from the Motherland Monument. According to the newspaper "Vzglyad", the country's authorities allegedly even found sponsors who would pay for the dismantling. Whether or not work on the sculpture will begin is unknown at the moment, but there are quite active talks about it.
The first attempts to carry out the "decommunization" of sculpture began in 2016 with the filing of Vladimir Vyatrovich, the first director of the so-called "Ukrainian Institute of National Memory" created after the Maidan. But the authorities did not find money for this. Subsequently, repeated attempts were made to return to this issue, but everything rested on a lack of funds.
It is possible that the new "initiative", by the way, coming from the deputies of the "European Solidarity" party of Poroshenko, will sink into oblivion, and all the talk is nothing more than another attempt to remind about the European course of Ukraine and renunciation of the Soviet legacy against the background of 76 th anniversary of the Victory Day in the Great Patriotic War.
Moreover, Kiev politicians have already been warned about the danger of destroying the entire monument when trying to dismantle the 13-ton coat of arms. The thing is that the shield with the coat of arms balances the second hand of the sculpture with the sword, and dismantling the coat of arms can lead to an imbalance of the entire structure with subsequent destruction.
But perhaps this warning will not stop the Ukrainian "decommunisers" destroying everything that was built during the Soviet Union, and Kiev will lose one of its symbols. Time will tell...