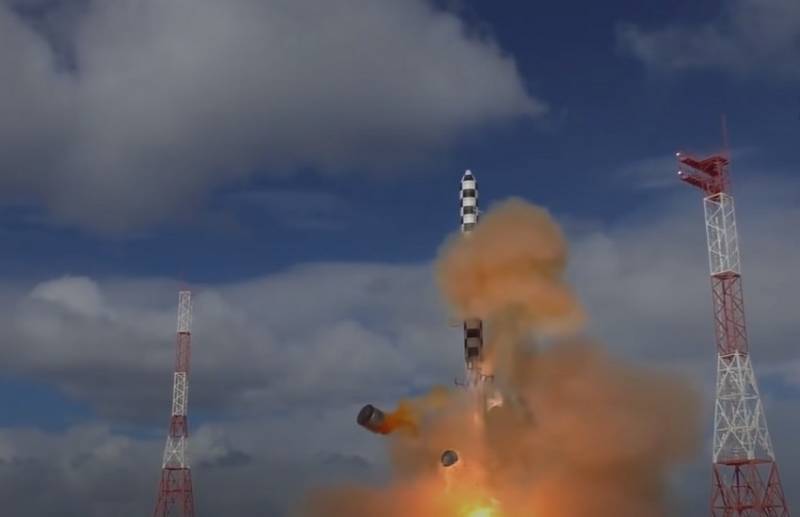 The Ministry of Defense has decided on the start of flight design tests (LKI) of the newest Sarmat intercontinental ballistic missile. In total, within this stage, three launches will be carried out in 2021.
According to sources from the defense industry, the words of which are quoted
TASS
, tests will begin in the third quarter of this year, all three launches will be made from a silo located on the territory of the Plesetsk cosmodrome, traditionally used by the military for testing. One of the planned launches will be at maximum range.
State tests of the "Sarmat" will start in 2022 with the first regiment being put on alert at the end of the year.
The Ministry of Defense does not comment on this information, but as the Deputy Minister of Defense of the Russian Federation Alexei Krivoruchko stated, the stage of missile throw tests has been completed successfully and the Ministry of Defense is moving on to flight tests. True, he did not name the dates. And just a month ago, the head of Roscosmos Dmitry Rogozin announced the imminent start of flight design tests of the Sarmat ICBM.
In principle, the sources confirmed the information previously announced by the military that the LCI stage will begin and will be completed in 2021, and the complex will be on alert in 2022. There was also information that this year the industry should master the serial production of Sarmat ICBMs. but so far no information has been received on this matter.
The RS-28 "Sarmat" ICBMs are being prepared to replace the world's most powerful silo-based ICBMs, the RS-20V "Voevoda" (NATO - SS-18 "Satan"); the missile will become the carrier of the Avangard hypersonic blocks.