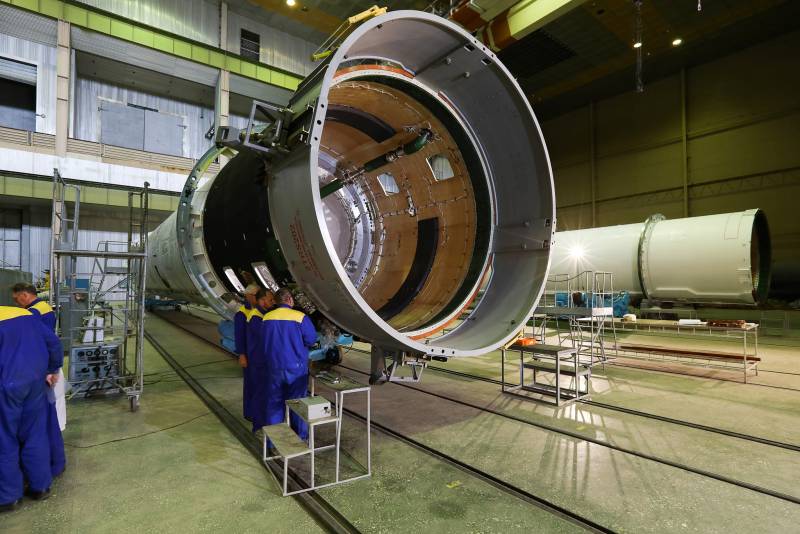 What kind of "leading status" in the field of aerospace can speak of Ukraine, which had quite serious developments in this area exclusively during its time in the Soviet Union, is absolutely unclear. Nevertheless, the country's president, Volodymyr Zelenskyy, in his post on Facebook, outlined just such a prospect. Moreover, he named as an immediate goal and obtaining "non-profit" "associate membership in the European Space Agency".
Obviously, focusing on the tasks set by the head of state, the Ukrainian Ministry of Strategic Industry is already working hard to create a National Target Scientific and Technical Space Program for 2021-2025. What incredible horizons will be unfolded in this document is not yet entirely clear, but something can already be discussed quite concretely.
Thus, the head of the relevant ministry, Oleg Urusky, together with his colleague, Minister of Education and Science Sergei Shkarlet, and with the participation of representatives of a number of Ukrainian universities, such as the National
aviation
University, National Technical University of Ukraine "Kiev Polytechnic Institute named after I. Sikorsky ", National Aerospace University. NE Zhukovsky, held a meeting dedicated to the training in the country of "aerospace specialists".
According to Oleg Uruskiy, we are talking about an urgent need to create, in addition to the existing ones, a new "forge of personnel" for "high-tech industries". At the same time, the minister lamented that "talented Ukrainian youth in search of a life perspective are leaving abroad en masse." Thus, in order to change this situation, it is urgently necessary to create opportunities for the self-realization of specialists within the country.
For this purpose, it is planned to establish a Network Research and Training Center (Institute) for the training of aerospace specialists. They promise to finance this project, which is clearly not cheap to implement, from the state budget. True, as far as we know, nothing of the kind is currently provided for in it.
Obviously, with an eye on this circumstance, Sergei Urusky mentioned "alternative sources of funding." He sees them in the framework of "public-private partnership", as well as "receiving investment" from both internal and, above all, from external, foreign sources.
The head of the Ministry of Strategic Industry believes that in this way in Ukraine, firstly, an "ultra-modern system of training specialists" will be created, and, secondly, the personnel raised with its help will not rush headlong immediately after receiving diplomas for the cordon, but will receive "proper motivation and a clear perspective in their country ". And this, of course, "will contribute to the breakthrough development of the Ukrainian aerospace industry."
The first thing with which there is an association after all these revelations is with the well-known expression "put the cart before the horse". Let's say we manage to train specialists. However, what kind of "motivation" and "prospects" can we talk about in the light of the real state of the aerospace industry in Ukraine? Where can these young talents, about whom Urusky cares so much, will be able to put the knowledge gained into practice? On, in fact, completely destroyed "Yuzhmash"? In the long-stopped workshops of Antonov, desperately balancing on the brink of final bankruptcy? At the once powerful plant "Arsenal", from which, in fact, only one name remains?
Ukrainian enterprises, which at one time really were the flagships of the aerospace industry, can be listed for quite a long time, but, alas, exclusively speaking about them in the past tense.
The deindustrialization of the country, which started in 1991 and took on a landslide character after the coup d'etat of 2014, primarily affects high-tech and science-intensive industries. There are practically none of them left in Ukraine. You can build as enticing projects as you like and create more and more structures with loud names - Ukraine has no real prospects in the aerospace field and is unlikely to be foreseen if the country continues to follow the chosen course.