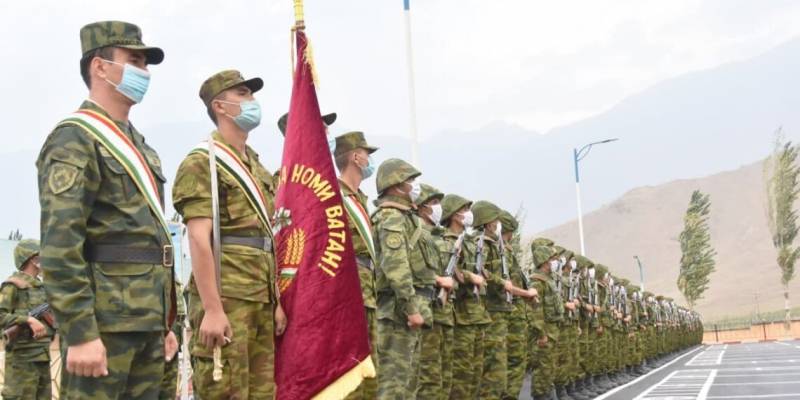 Military personnel of Tajikistan
Despite the de-escalation on the Kyrgyz-Tajik border, which consists in the withdrawal of forces and means, accusations against each other continue to be heard in Bishkek and Dushanbe. Representatives of the political elites of Kyrgyzstan are trying to make the military of Tajikistan responsible for the conflict, as a result of which people died and suffered, and the politicians of Tajikistan - the military of Kyrgyzstan.
Extremely harsh statements about the clashes that took place in the border areas on April 28-29 are heard from certain representatives of the Kyrgyz parliament. For example, we are talking about a statement by the Ata Meken parliamentary party calling on the international community to recognize Tajikistan as an "aggressor country".
In the statement, the Tajik authorities are associated with authoritarian regimes, "which often use the method of small victorious troops to increase their popularity in the country."
Also, representatives of the Kyrgyz parliament said that the fighting on the border "was carefully planned and prepared by the armed forces of Tajikistan and a group of armed bandits from the same state."
The aforementioned party, which has transformed from a socialist into a liberal one over the years, calls on the executive branch to place on the borders of Kyrgyzstan "a sufficient number of forces and means to repel the aggression."
From the requirements for the executive branch of the Kyrgyz Republic from the deputies of the said parliamentary party:
We demand a full-fledged reform of the national security structures, including intelligence and counterintelligence.
According to the official Bishkek, during the border conflict, Kyrgyzstan lost 34 people, 178 people sought medical assistance. More than 30 thousand had to be evacuated.
In turn, Tajikistan is accused of the aggression of the Kyrgyz military, who fired at the border village of Khoja Aalo. As a result of the shelling, a fire broke out, destroying several houses in this settlement. Recently, representatives of Bishkek and Dushanbe held talks, during which they came to an agreement on the need to end the conflict and withdraw forces and means.