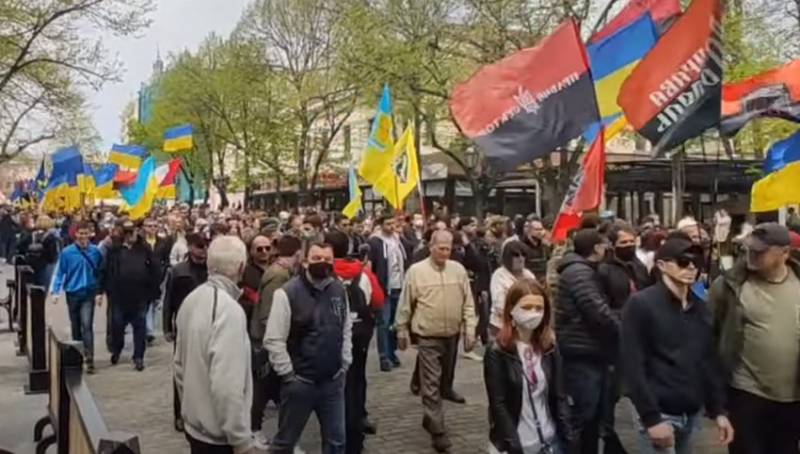 While the inhabitants of Odessa were carrying flowers, wreaths and lamps to the House of Trade Unions to honor the memory of the victims, nationalists marched through the streets of the city.
Ukrainian Nazis gathered on Odessa's Cathedral Square, where in 2014 clashes between radicals and anti-Maidan supporters began, after which they proceeded along Deribasovskaya Street to Shevchenko Park, where they staged a rally. On a column headed by the so-called. "ATO veterans" fluttered the flags of Ukraine, the extremist "Right Sector" (*) and the nationalist battalion "Azov" * banned in Russia, Bandera greetings and various slogans sounded.
According to information on the Web, radicals from all over Ukraine, and not just local ones, are participating in the procession. The march was called the "March of the Defenders" and was organized by the nationalist party "National Corps" *, created on the basis of the "Azov" battalion.
At this time, people with flowers continued to approach the square near the House of Trade Unions to honor the memory of the victims. The entire square was cordoned off by the police, everyone passing by was inspected for fear of collisions, but the situation was calm.
Recall that on May 2 in Odessa, after the arson of the House of Trade Unions, 48 ​​supporters of the "anti-Maidan" were killed, hiding in the building from radicals, another 250 people were injured. The Ukrainian authorities have not yet investigated the crime, the perpetrators have not been punished. And there will be no investigation as long as radical nationalists are walking freely on the streets of Ukraine, arranging their processions.