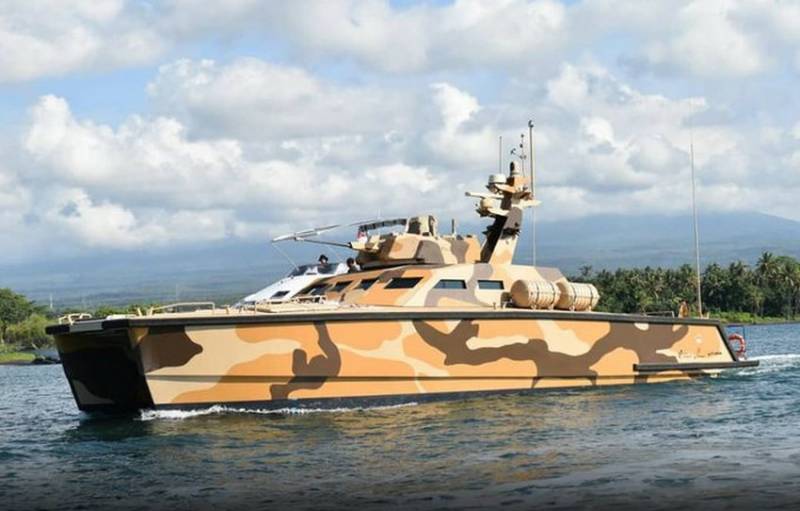 The Indonesian Armed Forces will soon get into service "
tank
boat "(tank boat). Tests of the first prototype have already begun.
The Tank Boat is designed for operations in swampy areas, sea and river expanses, on coastlines such as the Strait of Malacca, Sulawesi and Natun. The prototype put up for testing is armed with a 30-mm cannon, but in the future, the "tank boat" is planned to be equipped with a turret with a 105-mm Cockerill CT-CV 105HP tank gun with a maximum range of 10 km, as well as a remotely controlled turret with a machine gun up to 20 mm or with a gun up to 30 mm.
According to the requirements of the Indonesian army, the Tank Boat must accommodate 5 crew members and 60 landing people, develop a max. speed of 40 knots, work at a minimum depth of 120 cm. Cruising endurance is 350 miles at a speed of 30 knots and up to 900 miles in patrol mode at a speed of 9 knots.
The first display of the computer model X18 Tank Boat took place in 2015; on March 11, 2020, the Indonesian Ministry of Defense signed a contract for the production of the first prototype. Despite the fact that the serial production of the "tank boat" is still far away, the company PT Pindad, which developed the Tank Boat, reports a large number of orders for the supply of the boat for export. True, the customers have not yet been named.