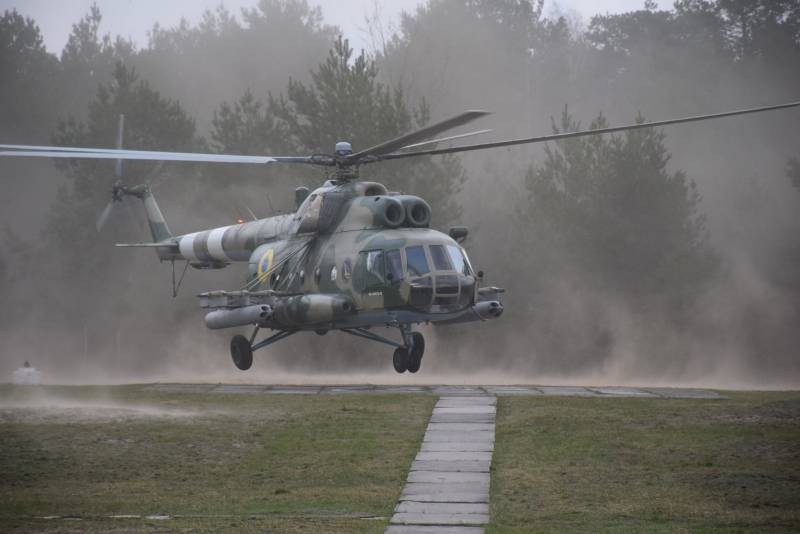 The Ukrainian State Research Institute of Armed Forces VVT has completed testing the capabilities of the updated version of the Mi-8MSB-V helicopter, created by Motor Sich. The new modification is able to use the entire range of S-13 type NAR (high-explosive fragmentation, penetrating, volume-detonating, etc.) and has a new armored cockpit glazing (capable of withstanding a direct hit of 7,62-mm armor-piercing bullets from a distance of 100 m ).
As indicated, the equipment of the C-13 helicopter has significantly expanded the strike potential of the machine: the range of destruction of targets in horizontal flight and from a dive is 4,5 km, and when they are used from the pitching mode [climb] - 10 km. The possibility of using the NAR from the hover position has been confirmed.
The effectiveness of the missile armament itself has significantly increased, since the S-13 has better combat characteristics compared to the S-8. As explained in the research institute, in total, the Mi-8MSB-V is now capable of carrying two S-13 units from 10 NARs and two S-8 units from 40 NARs, "which significantly increases the combat power of the helicopter."
The Mi-8MSB-V amphibious transport helicopter was created on the basis of the Mi-8T (the main difference is that the TV2-117 engine was replaced by the TV3-117VMA-SBM1V 4E) and entered service in 2014. Now, judging by the statements of the Ukrainian media, his shock version has appeared:
Mi-8MSB-V became a flying armored missile battery
- indicated in the publication Defense Express, noting that all works in this direction are carried out by Motor Sich on an initiative basis, without government funding.