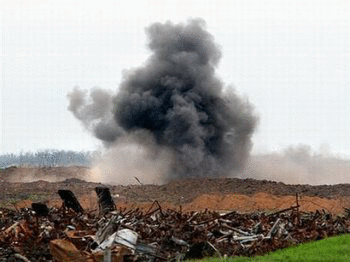 In the city of Yurga (Kemerovo region), the circumstances of the explosion of an artillery shell at the site of a military unit, as a result of which a military serviceman was killed, are being investigated, according to Interfax, citing a source close to the investigation.
"The tragedy occurred around 13: 00 28 August, when an unloading of ammunition resulted in an explosion of powder charge from an artillery shell caliber 122 mm," - said the agency interlocutor.
As a result of the incident, a soldier of military service 1993, born in Petropavlovsk-Kamchatsky, died.
This month the incident with the explosion at the site is not the first. 7 August, the landfill area was cleaned from unexploded ordnance. Private Shuparsky hooked with a foot located on the edge of the pit an unexploded 100 mm projectile, which fell to the bottom and exploded. As a result, three soldiers and an officer were injured, according to a local resource, "Kuzbass is the main thing."