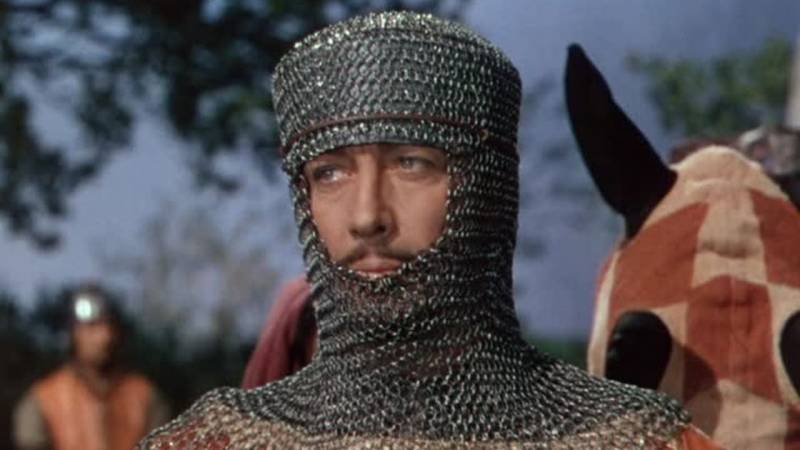 Before us is a frame from the Spanish-American film "Black Arrow" (1985). But in fact, we see in front of us ... a revived effigy!
"And he said to them: Thus says the Lord, the God of Israel: put each of your sword on your thigh, go through the camp from gate to gate and back, and kill each one his brother, each one his friend, each one his neighbor."
(Exodus 32:27)
History weapons.
So, today we continue our journey into the world of medieval swords. And we will start it with a short introduction. Until now, unfortunately, we have people, well, how would we call them so "more tolerant" ... "sick" seems to be the most accurate definition, stubbornly claiming that all that mass of artifacts that is known to historical science and is the basis for dating history as such is ... a forgery. That is, a fake sword from the grave in Sutton Hoo, and all those swords that passed through the hands of Petersen and Oakeshott, that the manuscripts (tens of thousands of folios!) Are also fake, like the drawings in them depicting these same swords, and finally , obviously, effigii are also fakes - gravestone sculptures of the deceased knights. But here's what's interesting: most of the manuscripts are signed and dated by their authors. And they could not have known that some knight in arms on a miniature in his book will give an oak tree somewhere in Yorkshire at that very time, and a statue will be sculpted from it in exactly the same armor and with the same sword, and even and they will put a year on it. And that exactly the same would then be found at the bottom of the Thames. It is physically impossible to write so many books, cut down thousands of statues, and even bury so many swords in the ground and throw them into rivers, or, on the contrary, keep them carefully on the walls of knightly castles and cathedrals. And most importantly - why? After all, separately, all these manuscripts, artifacts and effigies do not prove anything and do not affect anything.
Our president over there found, for example, one (1) textbook in which "there was no Battle of Stalingrad," but what does this prove when there are many textbooks in which she writes in great detail? Someone lost their appetite because of this, someone lost their salary, or, on the contrary, was it raised? Of course not. Just knowing history has very little effect on our real life, does not even teach us anything, judging by experience. And if so, then who could have thought of cutting down thousands of statues, writing thousands of manuscripts, forging swords and armor. And most importantly - why? To prove to descendants, and quite close to us in time, that the Middle Ages was? Yes, but why are we going to prove it to someone? Well, it was and it was, and I ... will go and "booze". Did not have? Better yet: I will also "booze" or I will go to work in the country, because "it was - it was not" does not affect our life in any way.
But if you don't rave in this way, it turns out that both the miniatures from the manuscripts and the artifacts of swords complement each other perfectly. But this was in the past material, and today our story is about medieval swords that can be seen on the hips of the effigy! Since they have been discussed at VO more than once, there is no point in repeating. I will only say that since the burial shroud was the only clothing of both a noble seigneur and the very last poor knight, in order to distinguish one from the other, they invented effigii - gravestone sculptures of the deceased, sometimes much higher than human growth.
They are shown on them with the smallest details, and - most importantly, what we see in the effigies exactly corresponds to what is depicted in medieval miniatures. That is, the history of medieval costume and knightly weapons can be fully studied using them, supplementing it with cross-reference to illustrations in manuscripts. The latter, however, are older than gravestone sculptures, the fashion for which among the knights also did not appear immediately.
Now let's look at the effigies themselves. Indeed, they deserve it, and it is worth looking at them, and very carefully. After all, then they will be able to tell us a lot ...

Let's start with this effigy - William Marshal, First Earl of Pembroke, who died in 1219, which is in the Victoria and Albert Museum in London. There are also earlier ones, but swords are not visible in their photos. And here the sword is seen very well. And it can be seen that the pommel of the handle has the shape of a ball, but the crosshair is too massive. Interesting is the blade tapering to the point ... This is not "Type XV", but not "Type X", but rather "Type XIV"

A very revealing sword in the effigy of William Marshal 1231nd Earl of Pembroke, who died in XNUMX. Temple Church in London. Its crosshair is also small. That is, this is a typical horseman's sword!

Effigia of Alexander Giffard, 1262, Boyton. Here he has, one might say, a classic sword "type XII" by E. Oakeshott, straight from his typology and scheme, given in the first material of this cycle. The sword sling of that time is very well shown ...

But here, with the crosshair, the sculptor clearly overdid it. If it were so real, this sword would be impossible to use due to the wrong balance and heavy weight. Effigia of the Knight D'Evers, 1270 Bristol

The value of this effigy of a nameless knight of 1300 from High Erkall is that it reproduces the clothes of a knight in the smallest details, a quilted under-armor caftan is visible, but the main thing is that he has no armor under the surcoat, but only the same chain mail

But this is no longer an effigia, but a breaststroke - a "memorial plaque", which is an engraved image on a copper sheet fixed on a tombstone. In this case, it depicts William de Setwan, buried in Chertham, Kent, in 1322. As you can see, he is still fully chain mail armor with chain mail mittens braided to the sleeves. But he follows fashion! On his shoulders he has elettes, repeating (although this is not visible) the coat of arms on the shield. And all the clothes, that is, surcoas, are embroidered with heraldic images of fans for the grain of the grain. His sword is very long and just a gorgeous scabbard.

John de Loudham, 1318 Loudham. There is nothing left of the sword hilt, but the sling is very clearly visible!

Effigia of Pembmarsh: William Fitzralf, died 1323. Everything is so well shown here that there is even nothing to comment on: you just need to look. Everything is very, very typical for its time. And all the same was presented many times in miniatures ...

John Leverick of Ashe, 1350. Compared to others, it seems to be a rather discreet effigy, and even with broken elbows. But its value to weapon historians is enormous. Take a closer look: in the cuts of the jupon (a short caftan that replaced the long-legged surcoat), you can see stripes, not chain mail. That is, in 1350, there were already such shells from the stripes!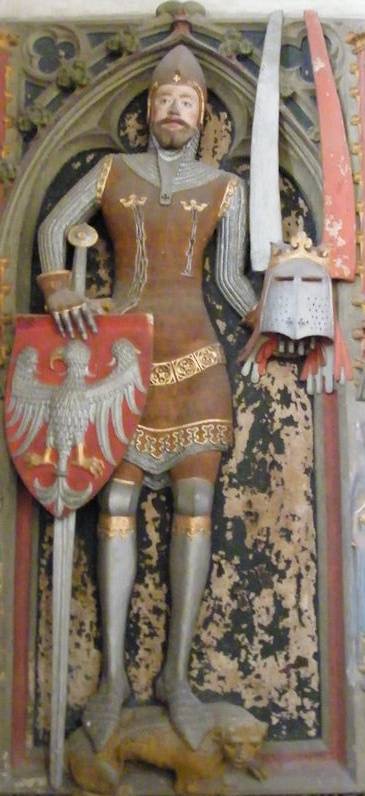 The same year 1350, but not England, but Germany. Effigia Albrecht II, Barbie an der Elbe, in Saxony-Anhalt. He has a downright huge sword, clearly "Type XVII". He also has a helmet with a crown and "horns", as well as three chains (one with a "button" for attaching a helmet, on which two cross-shaped slots are made for it) and a gilded knight's belt on his hips. The bascinet helmet (comforter) has a special detachable plate - bretash, to protect the nose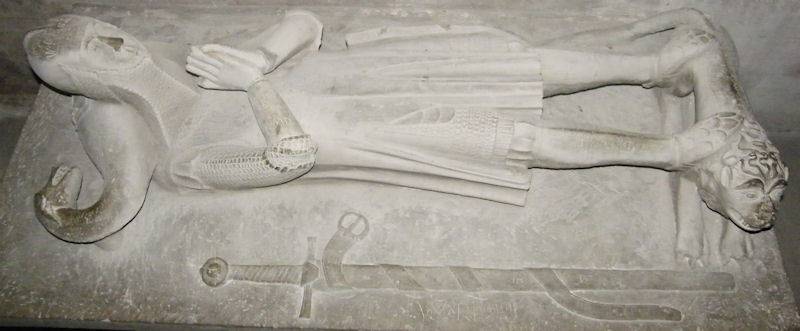 And here the sword in the scabbard is shown exceptionally well. Effigia Ulrich von Trevax, 1350, Switzerland, Hauterive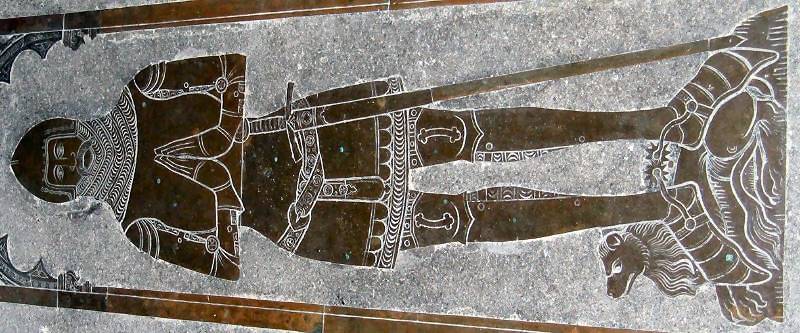 Brass by John de Cobham, 1354, Cobham. An excellent example of the armor of the transitional era, it seems that all the armor is already made of plates, and at the same time it is a pity to part with chain mail. And the sword is again "type XVII"

Almost the same age, but from Germany, and the sword is completely different - quite wide and not very long. Before us is Heinrich Bayer von Boppard, who died in 1355. Berlin Bode Museum

Thomas de Cobham, 1401, Cobham. The same transitional armor and a sword with a crosshair and a pommel straight from E. Oakeshott's diagram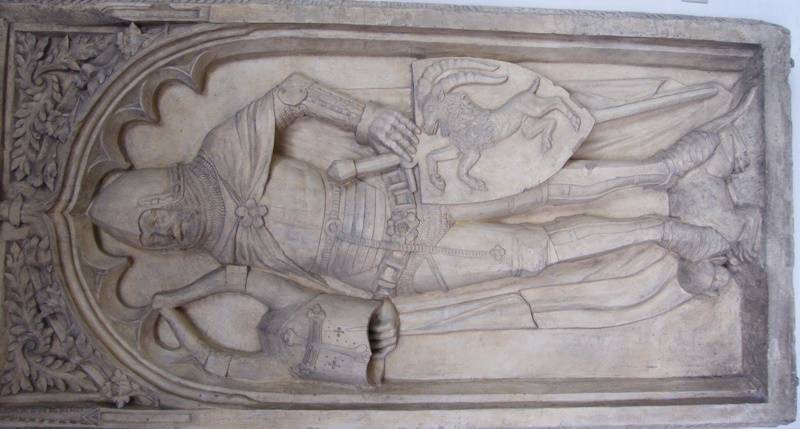 Again the Germans ... Burkhard von Schneinberg, 1376, Hildesheim, Nuremberg Museum. The horned helmet looks like a collection at the Imperial Armory in Vienna. The fastening of the bascinet to the chain mail comforter, the "armor" on the hands made of metal plates sewn onto the skin, and plate gloves are perfectly shown. And a sword ... a sword with a "decanter cork" pommel. It was very typical for this particular time.

England also had the same tops. Effigia Hyuga Courtenay, died 1377, Exeter Cathedral

This knight is clearly not one of the rich, but why - see for yourself ... Hanel Landschad von Steinach, died in 1377, Neckarsteinach, Germany, the land of Hesse

For comparison: breaststroke of the Englishman John Foxley, died 1378, Brow-on-Thames, Berkshire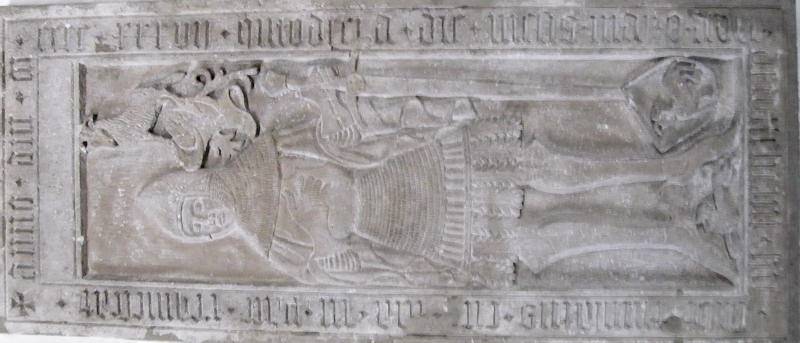 And again Germany, 1400. Tombstone carved knight von Tottenheim, Grunsfeld, in the state of Baden-Württemberg. Pay attention to his sword. Truly, this is an impressive weapon, if only it existed in reality. It is very similar to "type XX", but as a top, again "carafe cork"
And before the appearance of purely "white armor" another 10 years ...
PS The author and the site administration express their gratitude to the British Medieval Society for the photos of the effigy provided!