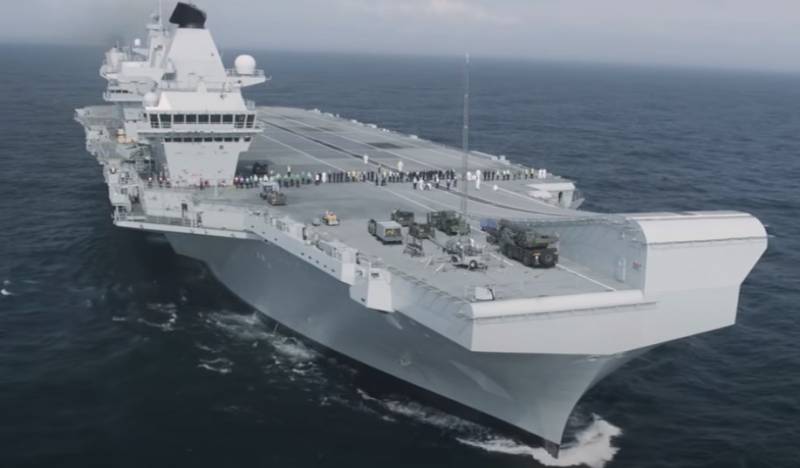 The British aircraft carrier HMS Queen Elizabeth was to receive four 30-mm small-caliber automatic cannons (ASCGs), which were considered as the main caliber of the ship's defensive circuit. However, at the exit, the ship is
weapon
never got it. In connection with public criticism, the Royal Navy is forced to make excuses by publishing a special material.
In an ideal world of unlimited funding, aircraft carriers would have a Sea Ceptor missile system [...] However, every weapon a warship carries adds costs [...] Weapons engineers know what they are doing
- explain on
navy
.
Due to the high cost of missile systems, it was initially decided to install four 30-mm ASCG cannons. For them, special platforms were made on the ship.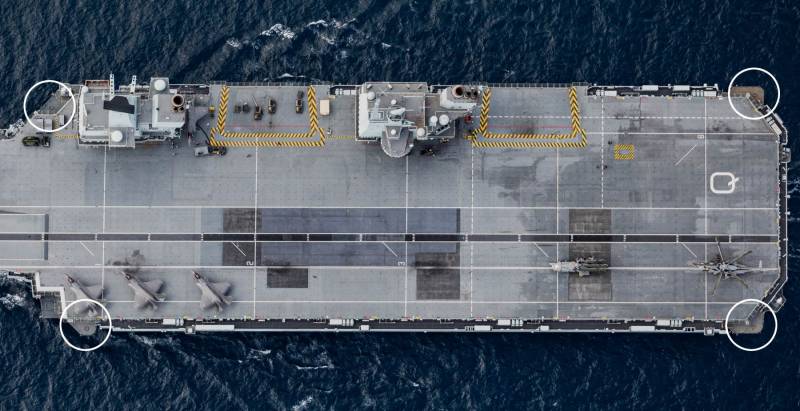 Platforms for placing 30 mm cannons. In the forward right side of the ship, you can see the 20-mm Phalanx ZAK
The main purpose of the ASCG, at least in the context of aircraft carriers, is to protect against small surface threats, in particular from fast coastal ships, small groups of boats and unmanned surface vessels.
However, this problem was allegedly resolved after the purchase of the [laser-guided] Martlet LMM anti-ship missiles, which are equipped with Wildcat helicopters [20 ammunition]. 30-mm UR with a total weight of 260 kg], located on the aircraft carrier and escort ships (two frigates and two destroyers). In addition, the helicopters can carry 12-7mm M3M machine guns and carry snipers trained in accurate shooting at outboard motors.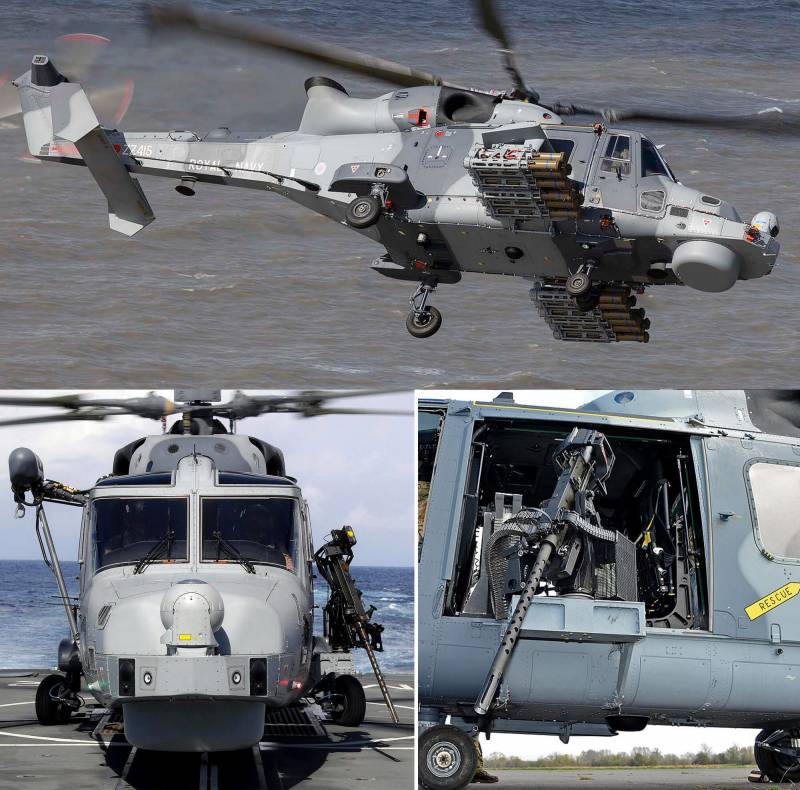 Wildcat with Martlet anti-ship missiles (tested for compatibility in spring 2020) and 12.7 mm M3M
Even if Wildcat does not engage [...] any ground threat will be met by escorts who have their own weapons
- indicated on the Royal Navy.
Moreover, if the guns were installed on an aircraft carrier, then it could "accidentally hit one of the escort ships":
The high-explosive 30-mm projectile easily penetrates the light steel plate of modern warships and inflicts significant damage, which was tested during the Falklands War (fire was fired from Argentine aircraft).
As explained, any threat that escaped the attention of helicopters and escorts will meet with the 20-mm ZAK Phalanx CIWS modification Block 1B, specifically designed to counter high-speed ships, helicopters, drones and small missiles that are difficult to detect on radars [judging by the images, the ship carries one installation; applied in test mode].
The last line of defense is small arms mounted on the upper deck and in the embrasures on the lower level, from where you can fire.
- noted in the fleet.
Small arms for aircraft carrier self-defense (12,7 mm machine guns, Mini Gun) and rifle embrasures on the lower levels of the ship: