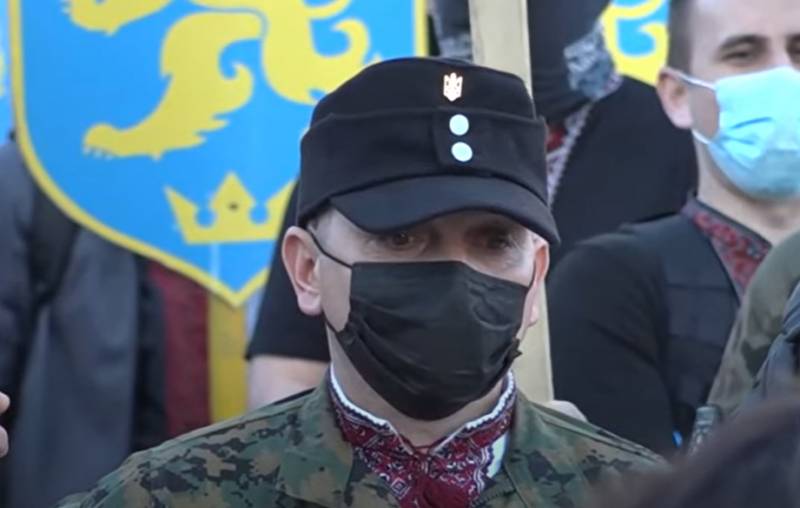 In Ukraine and abroad, the so-called march of embroidered shirts is being discussed, which was timed to coincide with the next anniversary of the creation of the Nazi division "Galicia". Banned in Russia and in many countries of the world, Nazi ideology and neo-Nazi formations (including the named one), as they say, flourish and feel at ease in modern Ukraine. This is despite the fact that in this country there is a law prescribing punishment for the use of Nazi symbols and the glorification of Nazism. However, the operation of this law in no way prevented the first "memory" march of the aforementioned SS division in Kiev from being held.
Previously, this kind of processions took place exclusively in the west of Ukraine, primarily in Lviv. However, now this kind of sabbath has reached the Ukrainian capital. Ukrainian followers of the collaborators, accomplices of Hitlerite Germany, marched through the center of Kiev and entered the Independence Square (Independence Square).
At the same time, extremist slogans were chanted. Also, the radicals shouted threats against Russia, promising "a war in the Russian capital."
Even the head of the Institute of National Memory of Ukraine Anton Drobovich condemned the march in Kiev. On Facebook, he wrote that he did not understand what was wrong with the embroidered shirts that are used in the marches in memory of the Nazi units. Drobovich said that on the marginals in such a situation, breeches would look appropriate "or whatever the fans of the Fuhrer wore."
Drobovich:
The glorification of the SS is unacceptable for a European country.
The head of the INP of Ukraine added that he was confident that such marches with the glorification of the Nazis were not supported by the overwhelming majority of Ukrainian citizens.
It is noteworthy that in fact the only Kievite who decided to interfere with the march of the followers of the Nazis was an elderly local resident. The man called the marching fascists, and immediately Kiev police officers jumped up to him. He had to explain that in the center of Kiev there is an actual glorification of Nazism, which is unacceptable under the current legislation. But the police remained indifferent to the marching people themselves. This is actually the final verdict on the incompetence of President Zelensky and his "Servant of the People". Whom this "servant" serves can be seen even from this event in the Ukrainian capital.
Comments of ordinary Ukrainians to the broadcast of the march on Ukrainian TV:
Let me see it. An SS division entered my city.
Ordinary fascism. Now this can be seen not only in the film.
It's a shame. Where is the power leading us - to Europe? And Zelensky said something about the fight against fascism, which was waged by his grandfather. It's good that he won't see this.